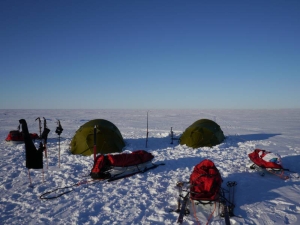 Earlier this week I posted the news that ALE's aircraft had finally started shuttling Antarctic explorers onto the ice, and after spending weeks in Punta Arenas, the teams seemed eager to get underway. Now, a few days later, most have left the Union Glacier Camp behind, and are now making their way South along a variety of routes.
Amongst the teams that have finally gotten underway are the Aussie duo of James Castrission and Justin Jones. The two men caught a lift out to Hercules Inlet, the location of their planned start, but upon arrival, discovered that they were actually dropped off about 8-10km (5-6 miles) from their intended departure point. That meant they had a bit of unexpected distance added to their journey, but mostly they seem happy to finally be on the move. They're experiencing one of the hardest sections of the tip however, as they have just passed the 81ºS mark and have started the long, slow slog up to the Antarctic Plateau.
Also making their way towards the Pole are the South Pole 1911-2011 Team, who now find themselves in competition with the Ghost of Roald Amundsen. The squad, which consists of Vegard Ulvang, Jan-Gunnar Winther, and Stein Aasheim, set off 13 days after their Norwegian hero, and while they are already covering good chunks of ground, they find themselves 250km (155 miles) behind Amundsen at this same point in their journeys. They hope to arrive at the Pole on December 14th, exactly 100 years to the day after Amundsen.
Two other teams got underway today as well, but they are both a part of the same expedition. Those two teams make up the Scott-Amundsen Centenary Race, and they are both hoping to reach the Pole as quickly as possible. The Amundsen squad hopped a flight to the Ross Ice Shelf, where they began their hike to the South Pole, while the Scott Team set out from their namesake's hut, located on Cape Evans. The two squads have 662 and 746 nautical miles respectively to go before they reach the finish line. That would be challenging enough, but they'll also have to face harsh conditions, brutal temperatures, and long days in the coldest, highest, driest desert on the planet.
Look for more updates soon. The teams are really just acclimatizing and getting their legs under them. Soon they'll be into the daily grind, but slowly but surely knocking off the miles on their way to the Pole.
Latest posts by Kraig Becker
(see all)