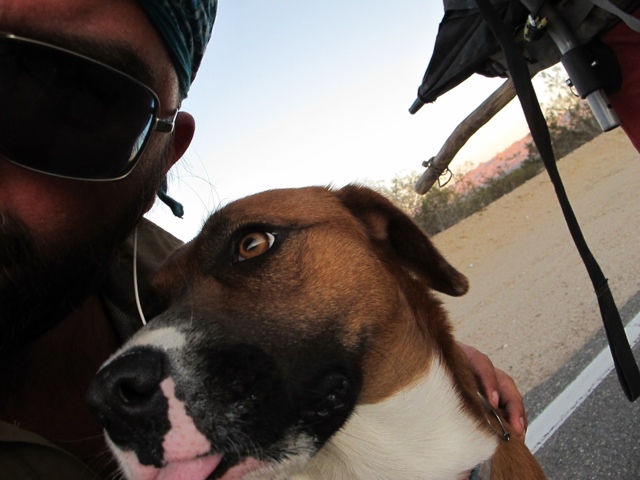 Sometimes you just have to take a hike.
That's what
Tyler Coulson
thought when earlier this year he quit his job as a Chicago lawyer and decided to walk across the U.S. with his dog Mable. Their journey came to an end yesterday when Tyler and Mable arrived at the Pacific Ocean in San Diego California. 
The trek, which would ultimately cover more than 3000 miles, started back in March, when Couslon and his pup set out from Rehoboth Beach, Delaware, where they were able to gain access to the
American Discovery Trail
. It wasn't easy going at first (his pack weighed 90 pounds!), but the pair soon found their rhythm and were off on a cross country odyssey that would take nearly eight months to finish. Along the way, Tyler chronicled his adventures on
his blog
, sharing news and wisdom from the road. He also used
Twitter
to stay in touch, and sent out an image from the beach yesterday, indicating that he was done. 
Who hasn't considered chucking their day job and heading out on some fantastic adventure? Major congratulations are in order for Tyler, who not only accomplished this massive cross-country trek, but also gave up his corporate job to follow his dreams. Reading through his blog entries, it seems he had a lot of ups and downs along the way, but came away a different person, with different goals for the future. I imagine it is nearly impossible to undertake a journey like this and not come away unchanged, but it seems he and Mable really did have a life altering experience. 
Thanks to Erich for sharing this with via Facebook. Much appreciated and good luck on your own hike along the John Muir next year!
Latest posts by Kraig Becker
(see all)