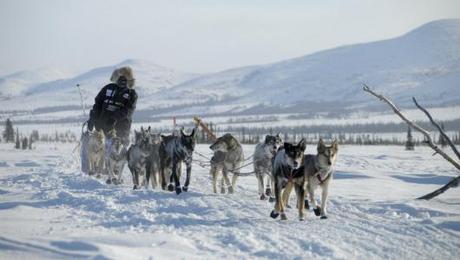 The 2012 Iditarod is shaping up to be one of the best races in recent memory. With the teams now past the halfway point, the mushers are beginning to think about the best strategies for the stretch run to Nome. That has led to some tactical moves out on the course that could have an impact on the outcome of the race in the days ahead.
Earlier today the first racers arrived at the checkpoint in Ruby, which falls at the 545 mile mark along the trail. Father-son duo Mitch and Dallas Seavey were the first to arrive and both have elected to take their mandatory 8-hour rest at that point. That has allowed Aliy Zirkle to retake the lead out on the course as she blasted through Ruby, stopping just long enough to check in and out.
The current leaderboard has Zirkle out in front as the only musher through Ruby. Behind her are the two Seaveys, followed by defending champ John Baker and Aaron Burmeister, who are holding down the fourth and fifth spots respectively. The only other musher who has reached the Ruby checkpoint is Jeff King, who now sits in the sixth position.
While it appears that the other racers have elected to rest in Ruby, Zirkle is making a bold move to try to put enough distance between herself and the pack so that she can take her 8-hour rest period down the line without surrendering back too much ground. The hope is that she can run faster over the next few legs of the race so that she can be on even footing when the final run to Nome begins. We'll just have to wait to see if that strategy will pay off.
Other names of note include four-time champ Lance Mackey, who is currently running in 18th place and Yukon Quest champ Hugh Neff who is holding down the 23rd position. Fan favorite DeeDee Jonrowe is making a great account of herself running in eighth place at the moment as well.
For more Iditarod coverage be sure to checkout the Iditablog.
Latest posts by Kraig Becker
(see all)