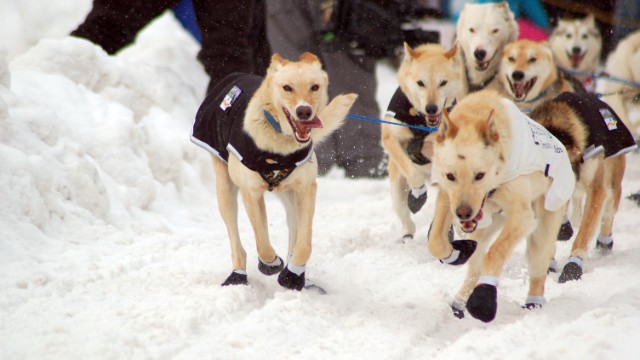 It has been a bit more of a subdued pace today for the competitors in the 2012 Iditarod, mostly because a number of the teams have are now taking their mandatory 24-hour rest. This rest day was instituted a few years back to ensure that both mushers and dogs were staying healthy and alert while out on the trail. Once they've competed their layover however, it'll be back to the trail for more intense racing.
The leaderboard remains crowded with big names at the top and as I write this, Aliy Zirkle remains in first place. Just behind her is John Baker and Mitch Seavey in second and third respectively. Jeff King and young-gun Dallas Seavey round out the top five.
Each of those racers, along with a host of others, are in the Takotna checkpoint, which seems to be a popular place to serve out the mandatory rest time. That CP sits at 329 mile marker for the race, or about a third of the way through.
Four-time champ Lance Mackey is currently running in 32nd place, although mostly because he has elected to rest at the McGrath checkpoint, about 18 miles behind the leaders. He'll definitely be back in the thick of things once he has completed the rest period and will likely pass most of those currently ahead of him when he blows through Takotna. This was a strategic move on his part and we'll see if it pays off down the line.
So far, all 66 mushers are still in the race, which is great news actually. That means that no one has gotten hurt out on the trail or had their dogs get sick or injured either. Usually be now we've seen one or two drop out for one reason or another, but so far the 2012 edition of the Last Great Race has been a safe and smooth one for the most part.
Latest posts by Kraig Becker
(see all)