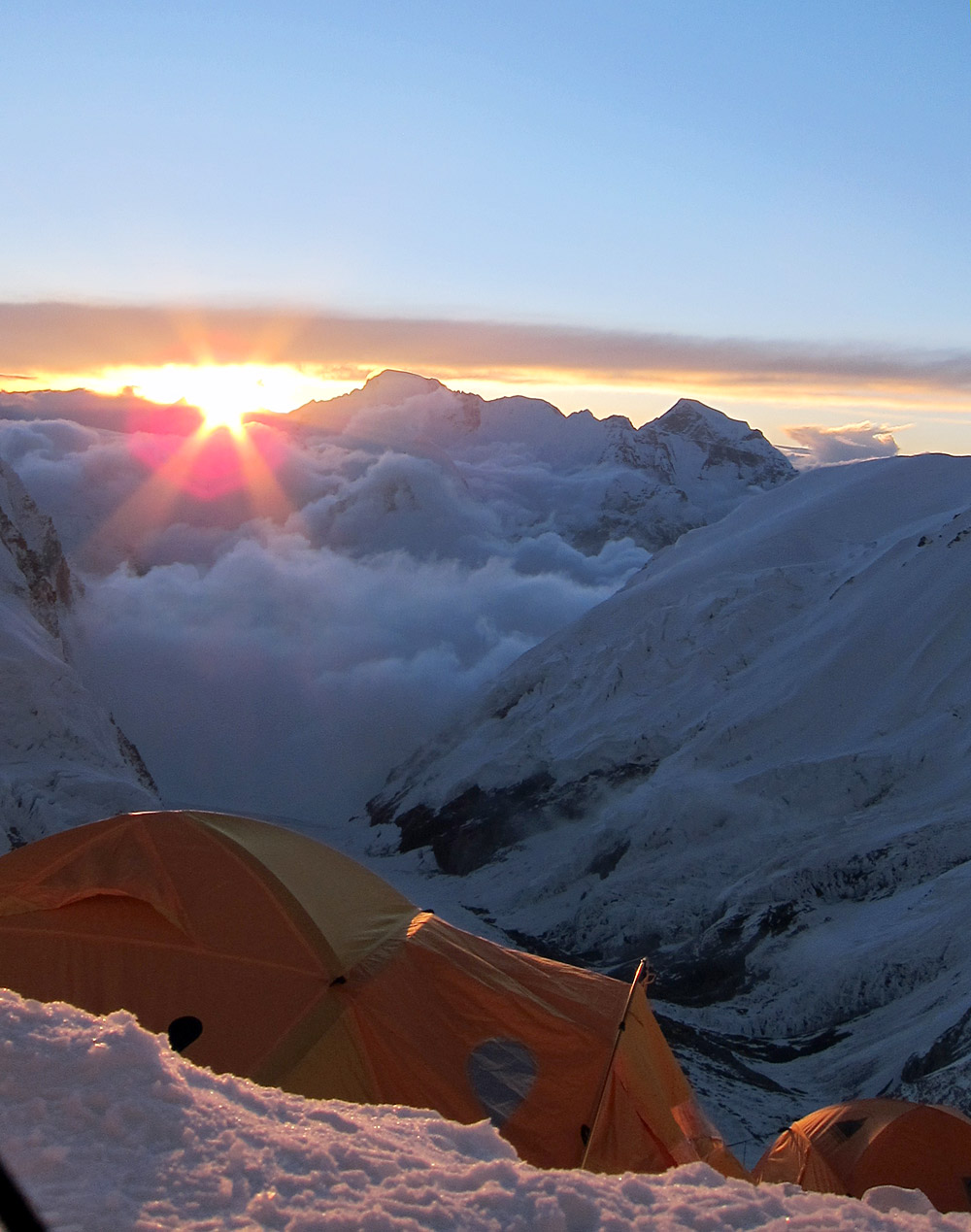 The second weather window on Everest opened as expected today, with winds dropping off dramatically and temperatures remaining relatively warm, even at the summit. As a result, there were all kinds of teams topping out in what sounds like far better conditions than last week.
Some of the teams that we've been following all season long had success once again today. The Adventure Consultants and Peak Freaks both put climbers on the summit and conditions were so good that the AC squad says that some of the their team even descended all the way back down to Camp 2 before resting. The National Geographic/North Face team also summited as a group, despite some reports that they might hold off until today and Kenton Cool was amongst the first to reach the summit, carrying a gold medal from the 1924 Olympic Games with him as he went. Kenton had hoped to conduct an interview from the top, but the laptop he took along with him succumbed to the cold and refused to cooperate. He later conducted another interview at lower altitude. This was his tenth successful summit of Everest.
The season hasn't wrapped just yet however and more teams are looking to head up today. Amongst them will be the RMI squad led by Dave Hahn, who hopes to nab his 14th summit of the mountain and the IMG team as well. Both groups are in Camp 4 and will be heading up shortly. Of course, speed climber Chad Kellogg will make his attempt at the speed record today as well, hopefully going from Base Camp to the summit and back again in under 30 hours. We'll see if he actually makes it.
Most indications are that not only will the weather hold out through the weekend but that there are far fewer people on the mountain for this window. Additionally, the teams seem to have staggered themselves nicely and traffic jams appear to be almost non-existent. As a result, I have yet to hear of a single fatality from this round of climbs and lets hope it stays that way. Obviously we're still waiting for everyone to be accounted for as they may their way back down the mountain, and with more summit push to go, we're not out of the woods just yet. But things are looking good at the moment.
Finally, I'll close this post with yet another excellent video from the Peak Freaks. This one explains why we climb. Simply beautiful.
Latest posts by Kraig Becker
(see all)