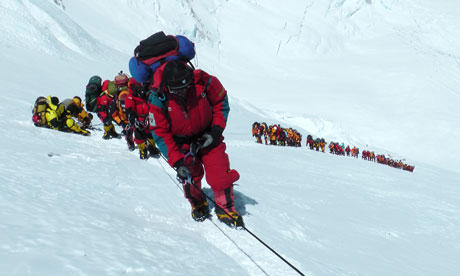 Another season has come and gone on Everest and of course it is time for reflection and analysis of everything that happened on the mountain this spring. As usual, it was another crazy, busy year for the world's tallest mountain and one that continues to leave people talking even as the climbers themselves head for home.
Yesterday Alan Arnette posted his recap of the season and as you would expect, it is thoughtful, well written and very complete. Alan does an excellent job of encapsulating all of the events that took place on Everest this spring and putting them in perspective for all of us who have never climbed the mountain. The blog entry provides plenty of history, context and analysis and is a great reminder of everything that has happened over the past two months. On an annual basis it is difficult to beat Alan's coverage of Everest and all of that experience and knowledge is much appreciated by those of us who follow the proceedings there very closely.
As with nearly all Everest climbing seasons there were sadly more deaths on the mountain this year. Alan lists ten confirmed deaths on his page, including three Sherpas. The remaining deaths were climbers from various countries on a variety of commercial teams on both sides of the mountain. Surprisingly enough, the number could have easily been one higher, as 69-year old Italian climber Luigi Rampini was stranded above 8300 meters (27,230 ft) for four  nights without oxygen. But he managed to survive and was rescued by some other climbers while he was descending.
Of course, any deaths on Everest prompt the mainstream media to write sensationalist pieces and provide mountaineering coverage when they typically wouldn't. Such is the case with The Guardian in the U.K., which published a pair of stories yesterday about the overcrowding that has become such an issue on the Big Hill in recent years. The first piece, which can be found here, quotes Ralf Dujmovits in his calls for stricter regulations on is allowed to climb the mountain, including a set of guidelines for determining who is physically fit enough to attempt the ascent. Ralf, who is amongst the most experienced climbers in the world, took that now famous photo of the line of climbers waiting to go up to the summit. He believes that the Nepalese government is simply taking who ever applies for the climbing permit with little regard to their health or experience. It is a compelling read with a lot of good insights from a man who knows what he is talking about.
The second Guardian article is an editorial by Jonathan Jones who says that Ralf's image is a mockery of what mountaineering and exploration is all about. He decries the fact that so many people now climb Everest on an annual basis and feels that most do it without any kind of regard to history. The fact that anyone with enough cash can now make an attempt on the mountain is a bit insulting to Jones, who warns that Everest is not a tame place and that overcrowding is likely to lead to disaster in the future.
(Thanks to my friend Colm for sharing both Guardian stories with me!)
One of the big stories from this past season was the decision by Himex to pull out of Base Camp before the summit push began. The team's leader, Russell Brice, felt that the mountain was simply unsafe to climb and he didn't want to put his clients, guides or Sherpas in any kind of unnecessary danger. Now that the season has ended however, and there were no fatalities as a result of the things that concerned him, it'll be interesting to see if there is fallout for the organization. Obviously Brice was doing what he felt was right and it is easy to second guess him now, but as a client who didn't even get the opportunity to climb, you can understand that there would be some disappointment there as well. On the other hand, the Himex squad is traditionally the biggest on the hill, and can you imagine what adding another large batch of climbers would have done to the already crowded conditions?
A few days back I wrote about speed climber Patricio Tisalema who was attempting to set a new record on the North Side of the mountain but was forced to abort that attempt when his support Sherpa took ill.  Patricio, along with his partner Rafael Martinez, had to administer first aid to the Sherpa and help him back down to C3 in order to save his life. They were later joined by Spanish climber Ferran Latorre, who aided in the rescue efforts and helped get the Sherpa back down to ABC.
After descending, Patricio was quoted as saying that it was the "hardest decision of his life" to turn back when he was feeling so strong and the weather was good. That comment has caused a few people in the climbing community to question why exactly it was a hard decision. Shouldn't someone's life always trump going for the summit and shouldn't the decision have been an easy, if disappointing, one? My feeling is that the quote was taken a bit out of context, and perhaps lost a bit in translation. It doesn't seem like there was hesitation on the part of Patricio or Rafael in turning back. They are most likely still feeling the sting of missing out on the summit, which of course hurts, but deep down inside I think they always knew it was the right choice.
One of the residents of Base Camp on the South Side of Everest for the past five weeks has been Grayson Schaffer who has been covering the climbing season for Outside magazine. Grayson is attempting to head home now, but he reports that the seasonal monsoon has moved into the area and heavy rains are causing many flights to be delayed or canceled. As a result, climbers are stranded in Lukla and patiently waiting to catch a lift back to Kathmandu and eventually home. There is nothing worse than having completed an expedition or physically demanding trip and just wanting to head home to your own bed, only to be left stranded somewhere. I feel for those that are stuck in Lukla, although I can think of worse places to be stranded.
Finally, as this season comes to an end at last, I'd just like to say that it was once again a real pleasure for me to not only share the news from the mountain but also interact with so many other people who share that passion and interest. The Internet has made it a simple affair to connect with others from around the globe and Everest is one of those places that seems to draw so many of us together. I appreciate everyone reading my blog and sharing their thoughts and comments. It was another great spring in the Himalaya.
Now on to Denali and the Karakoram!
Latest posts by Kraig Becker
(see all)