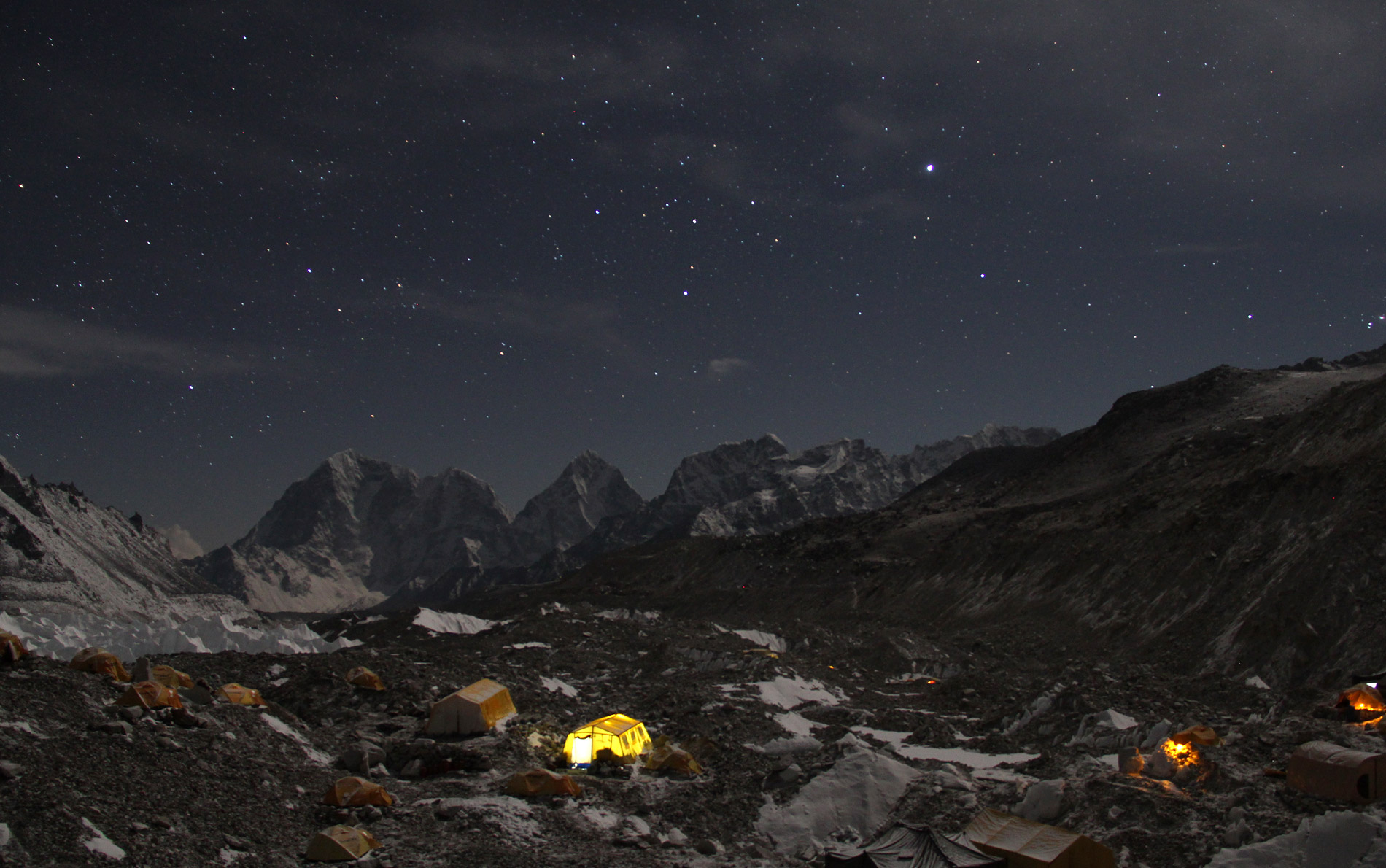 As expected, the summit of Mt. Everest was a very busy place this past weekend with dozens of climbers going up in an attempt to take advantage of the weather window. But on Saturday the winds started to pick-up once again, which abruptly put an end to this round of summits. Today we have news on those who were successful in their bids, and some that were not, as the next round of climbers moves into position to take advantage of the next weather window coming later this week.
Lets start with the bad news from the weekend that just passed. Various outlets, including Alan Arnette and The Guardian are reporting that several climbers lost their lives in their attempts to scale the tallest mountain on the planet. At this point there are three confirmed deaths and possibly more. German climber Dr. Eberhard Schaaf reportedly succumbed to High Altitude Cerebral Edema (HACE) while descending from the summit on the South Side. A Neplai-born climber living in Canada named Shriya Shah also passed away on the descent, as did a Korean climber by the name of Song Won-bin. There are also said to be two others missing at the moment, but their fate has yet to be determined.
Climbing Everest is no easy task and everyone there knows the dangers involved. Still, knowing that doesn't make it any easier for those of us who follow progress on the mountain, nor for their friends and families back home. I want to extend my sincerest condolences to those who were close to these climbers, including their teammates who were with them on the mountain.
Among those with successful summits over the weekend were the Peak Freaks and IMG teams. Both squads saw exhausted climbers straggle back into Base Camp yesterday and they report that everyone got up and down the mountain safely. The second round of IMG climbers had already started to move up the mountain, with an eye on making a summit bid on Thursday or Friday of this week. The Adventure Consultants posted a similar update, with most of their team back in BC today, with some planning on leaving tomorrow, while others are already up in Camp 2 and looking for a summit bid late this week too.
All of the dispatches report early morning departures from the higher camps in order to get through the Khumbu Icefall while the temperatures are still relatively cold. It isn't easy for the climbers to roll out of their warm sleeping bags and tents after putting all of their efforts into the climb, but early morning is the safest time to pass through the Icefall and so far there hasn't been any issues with that section of the climb, despite concerns about its structural integrity.
On the North Side of the mountains the teams seemed to have an even narrower window for their climbs, as the winds picked-up there first. Despite that, most of climbers who were in position late last week had a crack at the summit, with teams like the Altitude Junkies and 7 Summits Club reporting success. All are safely back in Advanced Base Camp now and are expecting to return to BC tomorrow, where they will officially celebrate their accomplishment.
With this first wave of summits out of the way, Base Camp on both sides of the mountain will now start to empty out as the climbers begin their long journeys home. For some it has been two months since they've slept in a bed or seen their friends and family, so you can imagine that many are eager to get back to their lives. But there are still plenty of climbers that have yet to top out and the next few days will seem like deja vu as they start to head up the mountain and take advantage of what could possibly be the last weather window of the season. Stay tuned for yet another busy week ahead. We're not done yet!
Latest posts by Kraig Becker
(see all)