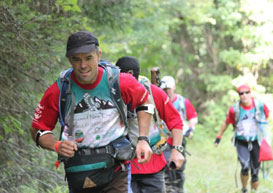 One of the toughest and most well known adventure races in the U.S. is set to get underway tomorrow when 49 of the best teams in the world embark on the 2012 Untamed New England event. The four-day long, non-stop race will also serve as a qualifier for this year's AR World Championship to be held in France this September.
As is typical with this kind of race, the athletes will be tested in a host of disciplines that include trail running, paddling, mountain biking, climbing and more. The emphasis of the Untamed New England is on coed teams of four, although there will be teams of two and three competing as well. The prize package for the inner includes $5000 in cash and free entry into the ARWC. The second place finisher will earn a free entry as well.
Northern Maine will provide the wilderness course for this year's event and anyone who has ever visited the region knows that it is a spectacular setting. Rugged and remote, the course will no doubt provide plenty of challenges to go along with the beauty that is found there.
Good luck to all the teams competing in the race. Keep your eyes peeled for bears and stay safe out there.
Latest posts by Kraig Becker
(see all)