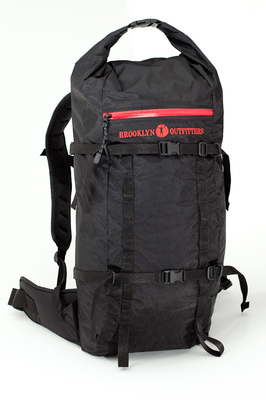 Brooklyn, New York isn't exactly a place you would expect to find an outdoor gear and adventure company but that is exactly where the aptly named Brooklyn Outfitters is located. The small, grassroots company is dedicated to not only providing outdoor enthusiasts with some unique adventure opportunities but it also has a line of gear that will come in handy along the way.
I've recently had the good fortune of testing out BKO's Wolfjaw 34L backpack and came away very impressed with both it's high quality build and well thought out design. As you can probably guess from the name, this version of the Wolfjaw has a capacity of 34 liters, which makes it the perfect size for day hiking and peak bagging. That size is large enough to carry everything you'll need for a long day on the trail, but not so much that you'll be slowed down or have your movement inhibited in any way. The fact that the pack weighs just 25 ounces (708 grams) doesn't hurt the cause either.
Built from very durable Cordura fabrics, the Wolfjaw is able to take plenty of punishment without showing much in the way of wear and tear. My review unit has been on numerous hikes of varying lengths and it still looks the same as when I first took it out of the box a few months ago. Those same fabrics are also waterproof, which is greatly appreciated when you get caught in a surprise rainstorm while still miles away from your campsite or car.
In terms of design, the Wolfjaw takes a classic, simple approach. With just the main storage compartment and an outside organizational pocket, it first appears that BKO elected to go with the "less is more" approach to creating this pack. But then you start to notice all of the nice details, such as the removable compression straps, the ice axe loops and the integrated hydration pocket and you begin to understand the company's approach to building this pack. It isn't that they went with the less is more philosophy at all, but instead with went the "everything you need and nothing you don't" approach.
That's not to say that the pack doesn't have some nice frills. For instance, the main storage compartment is sealed with a roll top closure that you'd be more likely to find on a dry bag. This has the dual benefit of not only keeping moisture out to the inside of the pack, but also providing an excellent handle for carrying the bag around when it isn't on your back.
Speaking of your back, the bag also has a surprisingly comfortable foam pad that serves as a back support of sorts. This is a nice feature to have on longer hikes or climbs in which you're carrying a heavier load, but if you're looking to go fast and light and want to shed sue ounces, the pad is completely removable as well.
I found the pack's well padded shoulder straps carried a load very well and were comfortable for long days on the trail. The Voluminous interior compartment can swallow up a lot of gear and if you're not careful, the weight can add up quickly. But even with a large load, the Wolfjaw was enjoyable to wear and had minimal impact on my ability to move unrestricted.
If you're a fast packer, peak bagger or avid day hiker looking for a new pack to add to your own gear closet, you could do a lot worse than the Wolfjaw. While I wouldn't have minded having a few extra pockets to help keep things organized, in the long run the pack was very impressive. Despite the fact that Brooklyn Outfitters isn't a big, well known brand, they're already making quality gear on the same level as some of the bigger outdoor gear companies. I think you'll find the pack to be impressive as well and with a price tag of $160 it is a pretty solid bargain as well. For those looking for something a bit smaller, BKO also makes the Wolfjaw 16L pack which I'm sure shares the same build quality as its big brother.
Latest posts by Kraig Becker
(see all)