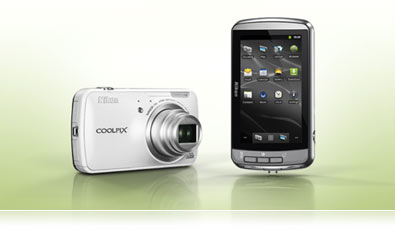 The rumors have been circulating for weeks that Nikon had a new camera in the works and that it would be powered by Google's Android operating system. This morning the company confirmed that those rumors were accurate by officially announcing the Coolpix S800c, a 16-megapixel camera with the heart of a smartphone.
On paper the S800c looks like a solid point and shoot camera that will serve travel needs quite well. Not only does it have a relatively large sensor for this type of camera, but it also packs a 10x optical zoom, a 3.5″ OLED touchscreen and it shoots full 1080P videos. It also has WiFi built-in, which when combined with Android allows users to upload images directly to Facebook, Twitter or Flickr while on the go. It'll even allow you to email your photos directly to your friends or wirelessly transfer them to your computer or tablet. GPS functionality allows you to geotag your images, which is becoming an increasingly popular option for travelers in particular.
As you would expect from a camera built by Nikon, the S800c appears to take great photos and solid video as well. But adding Android to the device opens up the possibilities for this camera quite nicely. In theory it should run most apps in the Google Play store, although this is an older version of Android. (Gingerbread 2.1 for my fellow geeks) That means there could be some incompatibilities with newer apps. That said however, this device should be able to run Google Translate, Maps, and other travel friendly apps that could extend its usefulness well beyond just a simple camera.
There are indications that we could see other camera manufacturers using Android to power there devices as well and perhaps one of them will bring a more modern version of the OS to market. For now though Nikon's offering is definitely an interesting experiment that leaves me wondering how consumers will react.
I'm also interested in the battery life on the S800c as Android is a notorious energy hog, particularly in older versions. Nikon says the included battery is good 140 still shots, which quite frankly isn't much when you're out snapping photos all day. That could easily mean that the camera will need to be recharged every day, which is also a lot like a smartphone. Using WiFi and GPS probably will kill that battery even faster.
Despite these misgivings however I'm looking forward to playing with the camera a bit myself. I think the upside to having a camera with the brains of a smartphone could be quite good, especially for frequent travelers. We might even be able to play Angry Birds on it!
The S800c will be available in September for $350.
Update: Here's a promo video of that gives you a better idea of what it looks like and what it can do. Very interesting.
Latest posts by Kraig Becker
(see all)