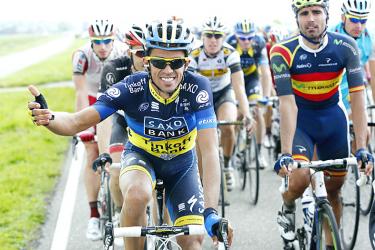 Alberto Contador, one of the biggest names in cycling, returned to the sport yesterday after serving a six month suspension for failing a drug test. The 29-year old Spanish rider is taking part in the Enoco Tour on Team Saxo Bank-Tinkoff Bank and had a relatively uneventful day in the race's opening stage. It was his first active competition since February.
Contador, who is a previous winner of all of cycling's grand tours, including the Tour de France, Vuelta Espana, and the Giro d'Italia, tested positive for trace amounts of of clenbuterol while riding in the 2010 TdF. The substance, which is used to improve the body's ability to take in oxygen, is on the list of banned substances. Contador has always maintained that he ingested the clenbuterol through tainted beef, but the International Cycling Union didn't buy that excuse and instituted a two-year band back dated to the failed test. Following his appeals process, the ban didn't actually begin until March of this year, although Alberto was forced to relinquish his 2010 Tour victory and all victories following that point.
The Enoco Tour is simply a way for Contador to get his legs back under him and return to the flow of the peloton. He was able to avoid several nasty crashes yesterday and navigate the flat stage without any problems. The Spaniard says he'll continue to work on his form and tune-up for his return to the big races, which will start with the Vuelta, a three week long classic that gets underway on August 18th.
Love him or hate him, it's good to see Contador back on the circuit. Sure he's cocky and arrogant but he's also a great rider who isn't afraid to attack. It would have been interesting to have had him in the Tour de France this year as he may have been able to give Wiggins a run for his money. We'll never know for sure, but his inclusion in the Peloton next season will certainly be welcome.
Latest posts by Kraig Becker
(see all)