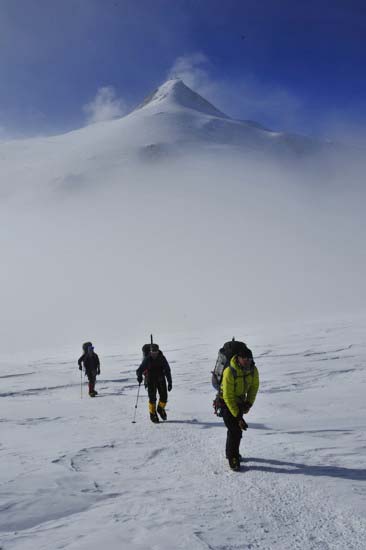 Considering how active the Antarctica news has been this week, I have just a couple of brief updates this morning.
First, we'll start on Mt. Vinson, where the RMI team had been hoping to summit yesterday, but were forced to turn back due to bad weather. According to team leader Dave Hahn, the group set off on schedule, feeling good and amidst clear skies and good conditions. But as they moved up, a group of clouds gathered around the summit, bringing high winds and poor visibility with them. After a long and tiring ascent, they decided to turn back just 700 feet (213 meters) below the summit. That may not sound like much, but on Vinson that means another two hours of climbing, which wasn't going to be very safe considering the weather and the level of exhaustion that was starting to set in.
The entire team then descended back to High Camp, with a cold wind in their face. The descent was a challenge as well and the team was disappointed they couldn't bag the summit, but as soon as they dropped to lower altitudes, the sun returned and the weather improved. Fortunately they still have plenty of time to take another crack at completing the climb, so they'll likely rest for a day or two in HC, watch the forecasts and decide when they can make another attempt.
There has been no update from Richard Parks today on the status of his gear, which was never shipped to Punta Arenas. He now waits to see if it'll arrive on time so he can launch his expedition next week, so lets keep our fingers crossed for him. He'll soon be joined in Chile by Eric Larsen however, who simply tweeted "Leaving for Antarctica" this  morning. With a little luck, Eric will be in Punta sometime tomorrow, which gives him a few days to get his his gear organized before heading out to Union Glacier next week. You may recall, Eric will be riding his bike to the South Pole in the days ahead, completing the 700 mile (1126 km) journey from Hercules Inlet to the bottom of the world. Time permitting, he may even ride back as well.
That's all for today. I'll post more news when we get it.
Latest posts by Kraig Becker
(see all)