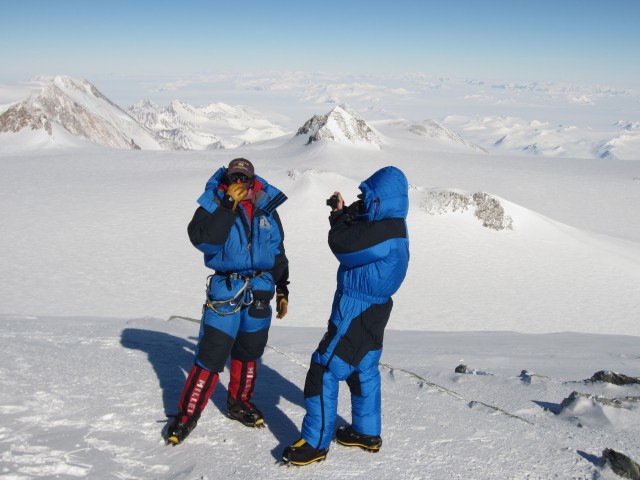 It has definitely been an eventful week in terms of news from the Antarctic. Some of the skiers have continued their progress towards the South Pole, while others wait for a chance to get out on the ice. And while they deal with their various issues, teams on Mt. Vinson have continued to seek that elusive summit.
Earlier in the week we heard the troubling tale of Richard Parks, who is hoping to embark on a solo and unsupported expedition to the South Pole soon. In that update, we learned that while Richard had made it to Punta Arenas just fine, his all important gear was still stuck on a shipping dock back in London. The question was whether or not the gear could make it to Chile on time, as Richard felt his small safety window was closing rapidly. If the gear didn't get to him by Monday, which is when the next ALE flight out to Union Glacier is scheduled, he may have to cancel the expedition altogether. Turns out that won't have to be the case, as one of Richard's support crew back in the U.K. has picked up most of his equipment and is now en route to Punta to deliver it to him personally. He had to leave a few items behind, most notably his pulk, but Parks is borrowing one from ALE so that he can get underway. Hopefully he'll now be back on schedule for a Monday departure, provided the weather cooperates.
There was good news from Vinson yesterday too, where the RMI team, led by Dave Hahn, has successfully topped out on the mountain. Earlier in the week the group was turned back by bad weather, but after descending to High Camp, they were able to rest up, gather their strength and have a second go at it. The weather was far more cooperative this time out, with nearly no winds and warmer than expected temperatures. The entire team made good, steady progress all the way to the top and actually spent a half hour on the summit, enjoying their accomplishment.

For Icelandic skier Vilborg Arna Gissurardóttir it has been business as usual the past couple of days. She just goes about methodically chipping away at the mileage, hitting her 20 km (12.4 miles) goal day in and day out, despite the conditions and changes to the Antarctic surface. She has had to deal with whiteouts the past few days, which can be a bit demoralizing, but her daily dispatches always come across as upbeat, focused and on course. Slowly, but steadily, she is making her way towards 90ºS.
Finally, another explorer is getting ready to set out soon and has now arrived in Chile. Eric Larsen indicated earlier that he had made it to Santiago, along with all of his gear, and would be on his way to Punta Arenas today. He is, of course, attempting to ride a specially designed bicycle from Hercules Inlet to the South Pole, and possibly back again, weather permitting. My guess is that he's hoping to be on that same flight to Union Glacier that Richard Parks is catching on Monday. If so, then both should be underway by Tuesday or Wednesday at the latest.
That's all for now. I'm sure there will be plenty of more news early next week.
Latest posts by Kraig Becker
(see all)