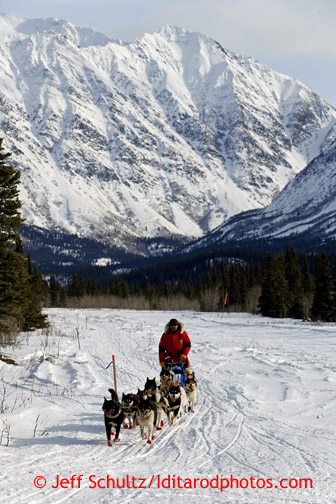 It has been another hectic day in the 2013 Idiatrod sled dog race where there have been lead changes, tactical moves and some fast paced teams on the move. With the front runners now more than 350 miles into the race, things are really shaping up now. There are a number of great mushers at the top of the leaderboard with some very familiar names for long time fans of "the Last Great Race."
When I posted my update yesterday, Aaron Burmeister was in the lead and setting a hectic pace out on the course. He continued in that position all the way to McGrath, where he earned the PenAir Spirit of Adventure award for being the first to arrive at that checkpoint. The award comes in the form of a specially designed spirit mask that Burmeister can take home for his mantle and he also received a $500 credit for travel or freight on regional airline PenAir. The lead musher didn't spend much time in McGrath however as he quickly moved on to Takotna, where he has apparently decided to take a rest. Whether or not this will be his 24-hour break remains to be seen, but it is beginning to look that way.
While Burmeister and hid dogs take some down-time, others decided to plow ahead and continue on to the next CP. The current leaderboard now has Lance Mackey leading the way and as of this writing he is the only musher in and out of Ophir. Behind him are Jake Berkowitz, Nicolas Petit and Sonny Lindner, who are holding down positions 2-4 respectively. Each of them are into Ophir but haven't left just yet, while Jeff King is running in fifth place on his way to that checkpoint.
Joining Burmeister in Takotna are a group of other mushers that includes the likes of Aliy Zirkle, Mitch Seavey, Paul Gebhardt and DeeDee Jonrowe. Defending champ Dallas Seavey is also into that checkpoint and is currently holding down 10th place over all, having moved up nicely in the past day.

One musher that is way back in the pack that we should all keep our eyes on is Martin Buser. He is currently running in 39th place and has reached McGrath. Buser was running very well at the start of the race and led for a time and now he is one of just two mushers who has already taken his mandatory 24-hour rest period. By getting it out of the way early, he can now move quickly back up the ranks while the other teams rest. He'll also have the benefit of running on well trodden trails while he is in pursuit, allowing the front runners to continue to break trail for him for a time. Expect to see him back near the top of the leaderboard sometime in the next few days.
With more than 600 miles to go until Nome and plenty of strategic and tactical moves to yet be revealed, this race is shaping up to be one of the best in recent memory. There are some big names lurking just off the lead and with Lance Mackey and Jeff King near the top, we could end up with another epic duel between those two men, both 4-time champions, before it is all said and done. It should definitely be fun to watch how it all plays out.
Latest posts by Kraig Becker
(see all)