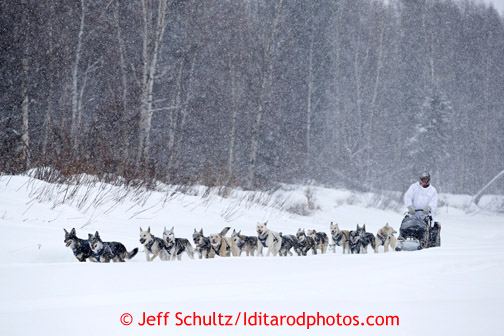 The 2013 Iditarod sled dog race has already been an interesting one to watch and we're not even to the halfway point just yet. The teams started off at a fast pace but now have settled into the rhythm of the trail. Over the past day, most of the racers have elected to take their 24-hour mandatory rest period as they prepare for the stretch run to Nome, while at the front of the pack some of the biggest names in the sport are now leading the way.
As I write this, the frontrunners are into the checkpoint in the village of Iditarod, which falls at the 432  mile point. The leader is 4-time champ Lance Mackey, followed by Sonny Lindner and another 4-time champ in Jeff King. The only other racer who has reached the CP at this point is Martin Buser, who is a former champ himself. You may recall that yesterday I recommended keeping an eye on Buser as he had been racing well but elected to take his 24-hour break early on. Now his dogs are well rested and he has surged back to the top of the leaderboard once again. Jason Mackey is out of Ophir and headed towards Iditarod. He rounds out the current top five.
Other notable placements include Aaron Burmeister in 7th place, Mitch Seavey in 8th and Aliy Zirkle in 9th. Defending champ Dallas Seavey is currently running 15th overall and will need to make a move if he wants to get into contention. All of these mushers have finished up their 24-hour rest and are now out of Ophir and on their way to Iditarod as well.
Yesterday seemed to be the day for taking that mandatory break as most of the mushers took the opportunity to rest up. They'll all have to take another mandatory 8 hour rest at some point, but that isn't likely to come until they are much closer to the end. With more than 500 miles left to be run, there is still a lot of ground to cover, so we should see some fast paces take over once again.
In a sense, the real race is about to begin. The dogs and mushers are rested and ready to go and the trail is wide open into Nome. The next few days should be very interesting indeed.
Latest posts by Kraig Becker
(see all)