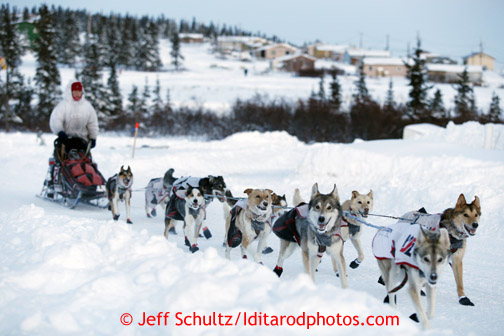 Aliy Zirkle finds herself in an oddly familiar place as we head into the stretch run of the 2013 Iditarod sled dog race. In the final days of last year's competition she found herself in second place and chasing a man with the last name of Seavey. This year she's in the same position but instead of trying to run down 25-year old Dallas Seavey, she's chasing his dad Mitch. With just one more checkpoint to go before the lead mushers turn for Nome, it now seems clear that we're in for one heck of a finish. The race is far from over and there are plenty of contenders for the win.
Right now, the leaders are into the White Mountain checkpoint, which falls at the 921 mile point. That means there are just 77  miles to go until the end of the race. At the moment, Mitch Seavey is indeed the lead musher and Zirkle is behind him. The two racers were separated by just 13 minutes when they arrived at the CP and both are there now resting their pups for the last dash to the finish line. Jeff King is currently in third, about an hour and a half off the pace, while Dallas Seavey is now climbed into fourth place and has looked very good over the past two days. In fact, his dogs may be running as fast as anyone at the moment, although he only has eight on his team right now. That could come back to hurt him on the final push to Nome. Ray Redington Jr is in fifth place and still within striking distance as well. 
The top contenders now have each other in their sights, which hasn't always been the case at this point in the race. Obviously Mitch and Aliy are the two racers to watch as they'll be the most rested coming out of White Mountain. but there are still a lot of miles to cross before they're done and tactical moves can still play a role. The question is, when the two leaders depart, will King and the younger Seavey follow suit? Or will they choose to rest and wait for an opportune time to try to catch their competitors out on the trail. 
There are plenty of other intriguing story lines to consider as well. Can Mitch get another Iditarod win? Will Dallas be able to catch them all and earn a repeat? Maybe Jeff King will become the first person to earn five Iditarod championships or perhaps Zirkle will be the first female winner in 23 years. We'll just have to wait until tomorrow to see how everything plays out. For now, only the checkpoint in Safey sits between these racers and glory. The Last Great Race comes down to this. 
Latest posts by Kraig Becker
(see all)