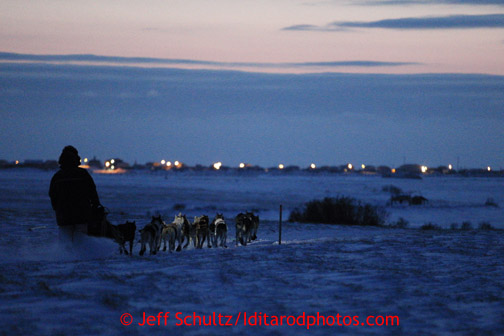 It was a busy weekend in Alaska where the mushers in the 2013 Iditarod sled dog race battled one another and the elements in their quest to reach the finish line in Nome. The lead changed on several occasions as the front runners jockeyed for position and let their strategies play out. Now, with less than 170 miles to go until the end, this year's race is shaping up to have one very exciting finish.
The two men who are currently battling it out for the lead in the race will certainly need no introduction to fans of the Iditarod. At the moment, 4-time champ Jeff King has rocketed into the lead and is setting a fast pace out of the Koyuk checkpoint. He is the only musher to leave that CP although Mitch Seavey, a former champ himself, has reached that town as well. King actually arrived in Koyuk behind Seavey, but only stopped long enough to check-in and back out again. His dogs are reportedly looking very strong and were not in the least bit tired upon arrival. That doesn't bode well for those chasing them. Aaron Burmeister is currently running in third place with with Aliy Zirkle in fourth. Neither of the those two mushers have been far from the top of the leaderboard this entire race. Ray Redington Jr. rounds out the top five.
Other notables who are still in the hunt but are watching the miles slip away at a rapid pace include Dallas Seavey, last year's champ, who is eighth, DeeDee Jonrowe in tenth, and Martin Buser and Lance Mackey in the thirteenth and fourteenth spots respectively.
Last week the weather was particularly good for the early days of the race, but there has been a definite shift over the weekend. Colder temperatures and more difficult winds have settled in on the Iditarod trail, which of course makes things more difficult, particularly for the mushers. There weather hasn't turned severe, but the change is noticeable none the less.
With the way things are going, we could see the first arrivals in Nome as early as tomorrow. There is still plenty of mileage to cover and the teams will need to rest along the way, but if trail conditions stay good and the front runners continue to push each other, a Tuesday arrival is not out of the question by any stretch of the imagination. It will certainly be an interesting stretch run and we'll need to see who has the most gas in the tank as the mushers head to Nome. But with all of the mandatory rest periods behind us, now it is just time for the dogs to run. I can't wait to see how it plays out.
Latest posts by Kraig Becker
(see all)