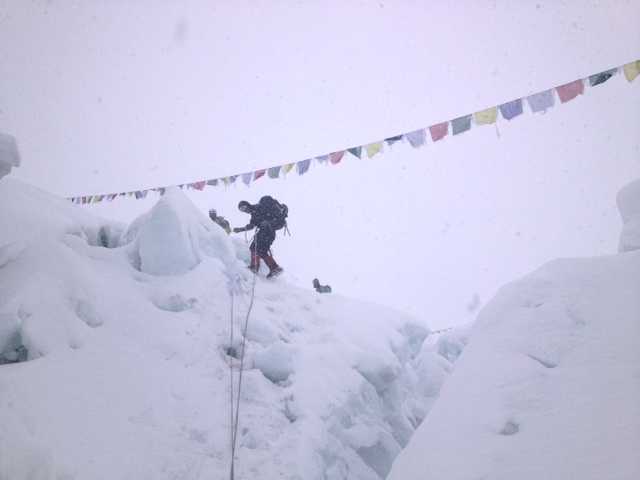 If there is one thing that we're learning so far this season on Everest, it is that all schedules are subject to change at any given time. There have already been a number of adjustments and changes to plans this spring, but this weekend the teams got another reminder that Mother Nature dictates when they can and can't move up the mountain. A snowstorm on Sunday kept several teams grounded in Base Camp on the South Side while other teams already up in Camp 1 were forced to abandon their plans to go higher. The snowfall is good for the mountain of course, but it isn't making things easy for the climbers who need to put in some work at altitude prior to the start of their summit pushes.
Fortunately, we're still several weeks away from the main summit push and the Sherpas are still busy fixing ropes up the slopes. They aren't likely to complete that work until sometime in early-May, with summit days not expected to start until mid-May or so. At the  moment, there is plenty of time for everyone work in their acclimatization rotations, even if their schedules are a bit disrupted.
The IMG squad had their groups spread out from BC to Camp 2 over the weekend, but the snow kept them grounded. They reported as much as six inches fell on the higher camps (other teams indicate accumulation was closer to a foot!) and as a result, everyone –including the Sherpas– took a snow day yesterday to rest and let things settle. Each of the teams will be back on the move today, with some returning to Base Camp, while others venture up to C1 and C2 for the first time.

The RMI team was one of those who had their plans altered by the weather. They had hoped to climb up to Camp 2 just to "tag" it on Saturday, but with conditions poor they elected to stay at Camp 1 an extra day before proceeding back down to BC yesterday. That descent was a bit of a challenge as the fresh snow forced the climbers to break trail but it also covered most of the crevasses, which is unnerving to say the least. Everyone got back down in one piece however and are now back in BC and enjoying the comforts of that location.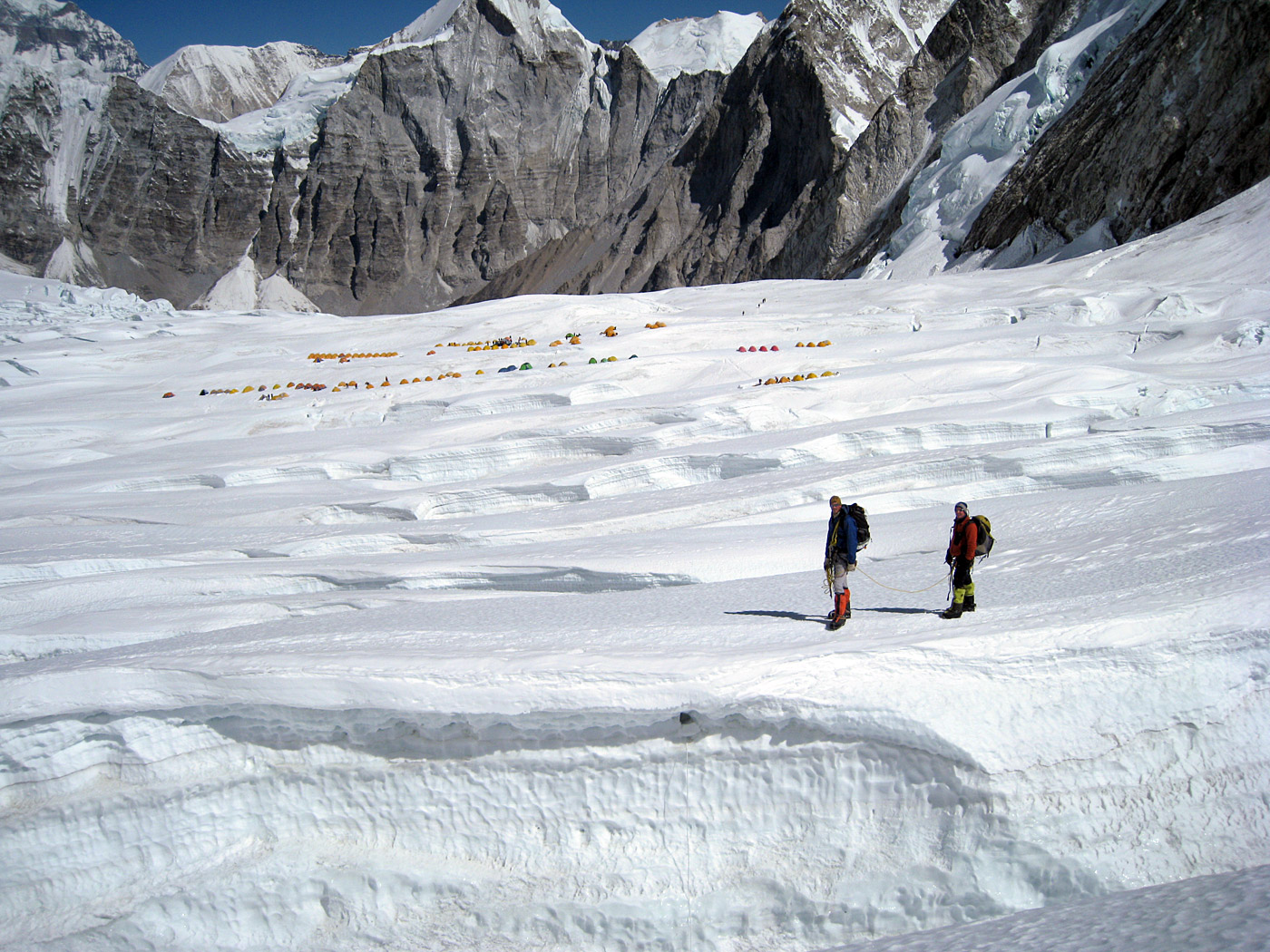 The Peak Freaks checked in from Camp 2 yesterday where their acclimatization process was proceeding along nicely. They intended to spend the night there again last night before heading up to the Lhotse Face today. They'll just climb to that point to scout the route and get the team use to the thinner air. If everything goes according to plan, they'll then descend to C1 for another night on the mountain before going back to Base Camp tomorrow.
That may not be possible however, as the Adventure Consultants are reporting that their Sherpa team descended from C2 to BC today and reported waste-deep snow for much of the way, particularly in the area around Camp 1. All of that fresh powder made for a slower descent, requiring the Sherpas to spend 8 hours coming down safely. That's about twice the normal amount of time it would take. With more snow in the forecast for tomorrow, the AC squad is staying in place for now.
The situation isn't much different on the North Side of the mountain at the moment either. Edita Nichols, climbing with the Altitude Junkies, checked in from Interim Base Camp yesterday where she reported that everything was going well but snow was falling there too. The plan was for the team to head up to Advanced Base Camp today, but they were going to wait and see how much snow was dumped on the route before they decided. They may elect to stay put as well before going up tomorrow.
This update is starting to run a bit long, so I'll wrap it up with a note that ten-time Everest summiteer Kenton Cool has returned to the mountain for his attempt at an 11th opportunity to stand on top of the world. He arrived in South Side Base Camp over the weekend and has expressed his desire to be there to celebrate the 60th anniversary of Hillary and Norgay's first ascent. Aside from that, we don't know if he has anything special planned for the year other than making another climb of the mountain he loves dearly. You may recall that last year Kenton went to the summit with a gold medal to help celebrate the London Games.
That's all for now. We'll have to wait to see if the weather will allow the teams to get back on the move again starting tomorrow. Right now, it seems there is a lot of snow falling on Everest.
Latest posts by Kraig Becker
(see all)