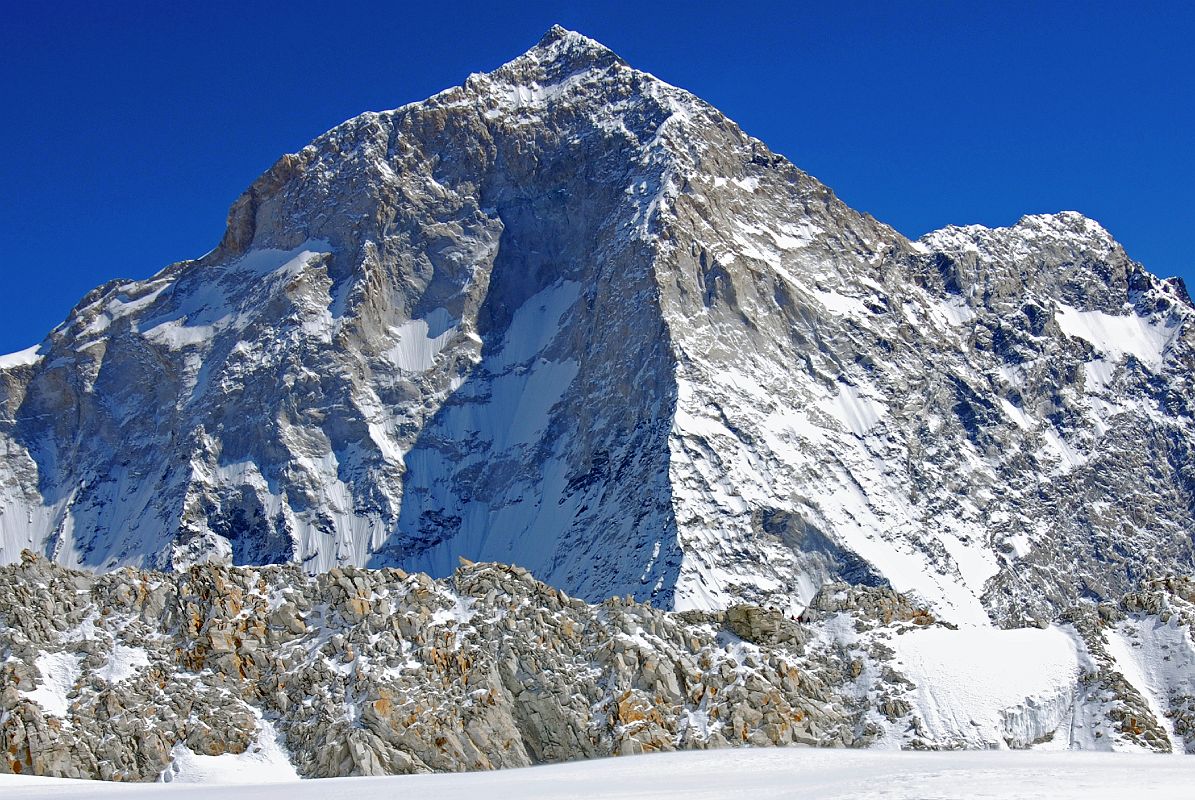 While the climbers on Everest head into the weekend completely focused on their acclimatization, elsewhere in the Himalaya other teams are going about their work as well. Most are in the midst of their rotations as well as they prepare for their eventual summit bids, but one climber has already knocked off his objective, claiming the first 8000 meter summit of the season.
ExWeb is reporting that Iranian climber Azim Ghychisaz successful reached the summit of the 8481 meter (27,825 ft) Makalu. Azim reported topped out on Wednesday after spending jus two weeks on the mountain. He was the first person in Base Camp this spring and while others have now joined him, his early arrival allowed him to get a head of the other teams and nab the early season summit. This is Azim's 11th 8000-meter peak. He still has Lhotse, Cho Oyu and Shishapangma to add to his resume. Congratulations on a job well done.
Also in Makalu BC this spring is Don Bowie who has written a good account of what it is like just to travel to Nepal and begin the trek to Base Camp ahead of the climb. If you've never made the trip yourself, it is a blur of airplanes and airports that takes the better part of two days to complete and that is just to get to Kathmandu. After that, its a flight out to Lukla just to get on the trail that will eventually take you to Everest, Makalu or any number of other peaks. It is quite the journey just begin the climb.
The Polish team of Kinga Baranowska and Rafal Fronia held their Puja ceremony in Makalu BC on Wednesday which allows them to officially launch their expedition. They immediately started lugging gear up the slopes and were expected to establish Camp 1 yesterday. Weather has been more dependable across the region the past few days, so it is likely that they've been able to complete that task and are now planning their strategy for moving higher.
Over on Dhaulagiri, Polish climber Pawel Michalski is on the move. Yesterday he spent seven hours climbing from BC up to Camp 1 and he plans to continue up to C2 today. After suffering horrible weather this past week, he is happy to be on the move once again. This is just a normal acclimatization rotation at this point, which will help his body to adjust to the thinner air at altitude.
Finally, on Lhotse most of the teams are following the same schedule as their Everest counterparts. Remember, the two climbs share the same route up to Camp 3 before veering off in different directions. The fixed ropes up the Lhotse face are expected to be in place by Monday, which means both Everest and Lhotse climbers will be looking to head up to C3 shortly there after. So far, everything is moving according to plan and right on schedule. Just like clockwork.
More soon.
Latest posts by Kraig Becker
(see all)