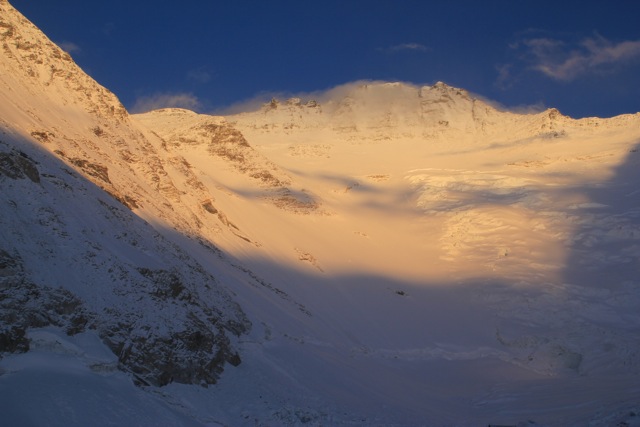 It has been an incredibly productive week on Everest, which has seen its fair share of summits the past few days. Alan Arnette estimates that there have been a total of 500 successful summits to date with perhaps another 50 coming today. But there is now a sense of urgency on the mountain, as the weather forecast indicates a change is coming. Higher winds, colder temperatures and possibly snow are now possibilities as the current weather window closes at last. The next day or two will wrap up the season, as the jet stream will soon begin to shift and the seasonal Monsoon will arrive with the coming of June, effectively shutting down the mountain until fall.
RMI's team leader Dave Hahn phoned in an update on the team's progress to say that they are on the move up to Camp 4 today with the hopes of reaching the summit tomorrow. The change in weather is starting to make the proposition of a summit bid a dicey one, although if there is a chance of topping out, Dave and his crew will take it. If he is successful on this bid, he will claim his 15th summit of Everest, which is the most by any non-Sherpa. That's a pretty impressive statistic to say the  least.
Also heading up today is the Himex Team, who were in C3 yesterday and should proceed to C4 on schedule. They're hoping to top out tomorrow as well and from the sound of their latest report, everyone is in good spirits and health, but looking forward to completing their expedition.
There hasn't been an update posted by Chad Kellogg in a few days, but today was the day he was set to launch his speed climb on Everest, departing from BC at 3:00 PM local time. As of this writing, that was a few hours ago and judging from his SPOT satellite tracker, Chad is already moving up the slope at a good pace. He has set his highs on beating Marc Batard's speed record, which was set back in October of 1990. To do that, he'll have to go from BC to summit and back again in 22 hours and 29 minutes. Hopefully the crowds will stay out of his way and the weather won't impact the attempt. Even if Chad isn't able to get the speed record, I'd still like for him to get the summit. The past few years have not been easy ones for him on Everest. Good luck Chad!

The Altitude Junkies have topped out on the North Side of the mountain, putting ten climbers on top this morning at 8:00 AM local time. Amongst them was Edita Nichols who already called into her home team after returning to Camp 3. She called the climb the hardest thing she's ever done in her life and she's looking forward to heading home soon. The team is scheduled to be back in Kathmandu by Saturday.
Back on the South Side, Melissa Arnot also topped out earlier today with her friend and guide Tshering Dorje Sherpa. She is now descending back to Camp 2 for a much needed rest before coming down to BC tomorrow. For Melissa, this is her 5th summit of Everest, giving her the most by any non-Sherpa female climber. Considering how accomplished she is at a young age, I suspect she'll add to that total in the future.
ExWeb is reporting that South Korean climber Kim Chang-Ho topped out yesterday as well, become the first person from his country to summit without supplemental oxygen. Everest was the final 8000-meter peak on his list and he has now completed all 14 of those monster mountains. Better yet, he has done so in record time. It took Kim just 7 years, 10 months and six days to get them all, which is a month better than the previous record held by Jerzy Kukuczka.
Sadly, ExWeb is also reporting sad news as well. The indicate that two more deaths have occurred on Everest with Seo Sung-Ho of South Korea and Mohammed Hossain of Bangladesh both passing away on the mountain. Both men died after successfully reaching the summit and in the case of Seo, that feat was accomplished with bottled oxygen. Condolences once again to the friends and family of these two fallen men.
The end of the season is now rapidly approaching and it won't be long until it is completely done. In fact, if I were to venture a guess, I'd say that after tomorrow, there won't be much more to report. Once this final summit push is wrapped up, it'll be clear sailing for the teams to head home. While it has certainly been an eventful season thus far, lets hope these next few days go quickly and safely for all involved.
Latest posts by Kraig Becker
(see all)