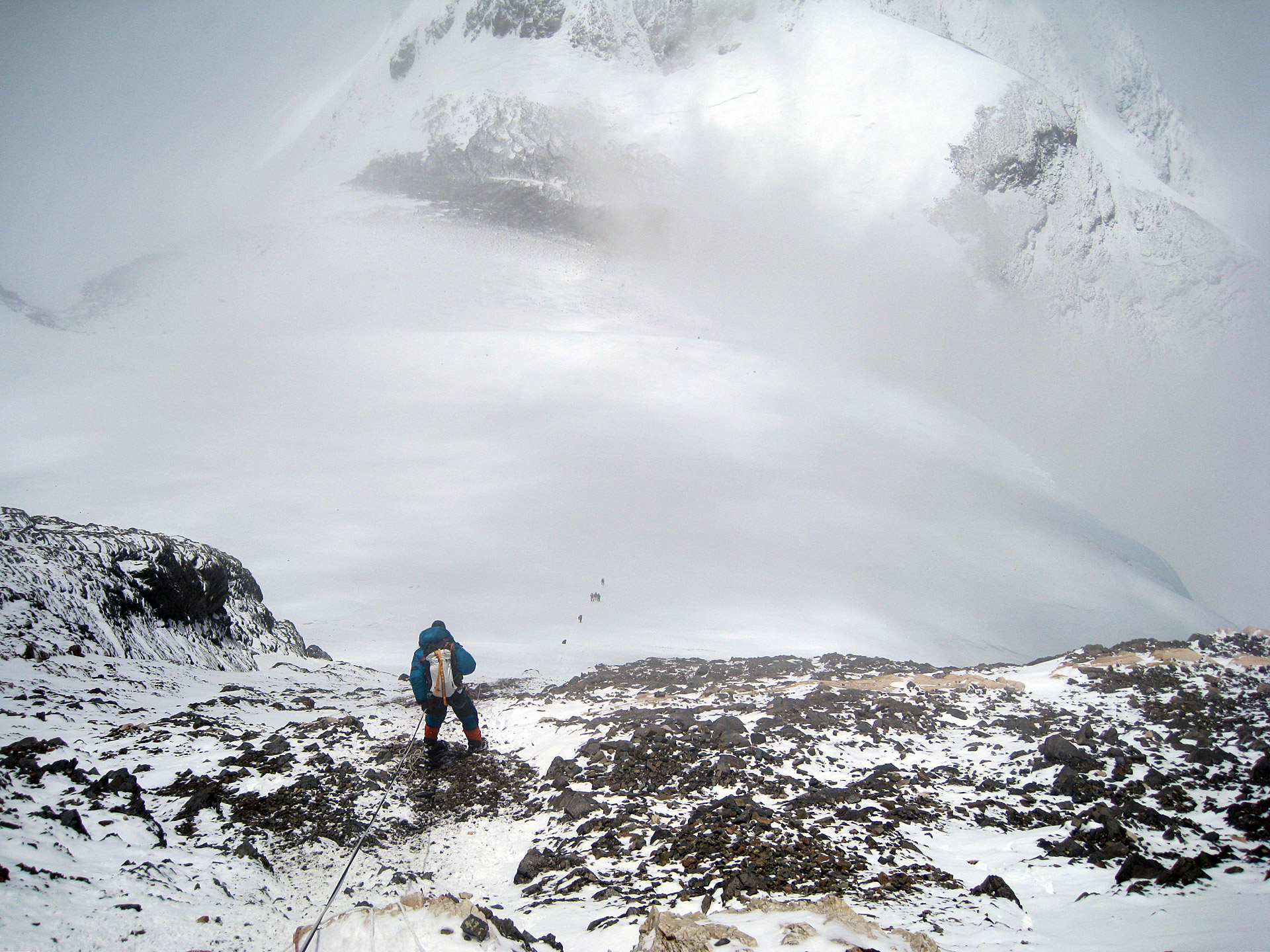 The summit of Everest is remaining elusive this spring as high winds continue to play havoc with the team schedules. Yesterday was suppose to be the day that the first groups of climbers started to top out, ahead of what is sure to be a very busy weekend. But the winds around the summit still haven't died down yet, so very few climbers actually managed to top out. Several teams pulled the plug on their summit attempts, while others continue to position themselves for the weather window that is expected to open today.
One team that did manage to summit was Berg Adventures. Their home team tells Alan Arnette that they put four climbers on the summit amidst some nasty weather. Their climbers set out from Camp 4 at 7:00 PM local time last night and didn't top out until 7:30 AM this morning. When they were done, Steve Whittington and Danuru Sherpa, along with Todd Pendleton and Phu Tashi Sherpa, all managed to complete their ascents successfully. Congratulations to all four men.
Most of the other teams that were on the same summit schedule were not so lucky. The IMG squad for instance set off as planned but encountered high winds and thick fog on the Triangular Face, a section just above the South Col. Worse yet, the summit was shrouded in cloud cover, which prompted them to turn back and seek shelter in their tents at Camp 4. They will reevaluate the situation today and decide on their next plan of action.
The Peak Freaks look like they are right on schedule as they are in Camp 3 today and heading up to C4 shortly. They're looking to top out tomorrow evening and their weather forecasts indicate that warming temperatures should make the summit push a good one. Some of the teams that have turned back will probably try to utilize that window as well, provided they have the strength and resources to do so.
Dave Hahn's RMI team has finally formalized it's plan for he summit as well. They've been laying low in Base Camp and letting the other teams clear out of the way ahead of them, but now they're just about ready to begin their push too. They're now looking to top out sometime around May 22 or 23, which is a week away at this point. That means they will like begin the ascent this weekend, starting on Sunday.
Melissa Arnot wrote on her website that she and her Sherpa guide, Tshering, were planning to top out on Wednesday, but the weather did not cooperate. High winds have forced them back down the mountain and according to Melissa's twitter feed, she and her companion are now back in Camp 2. They'll like take some time to regain their strength, check the forecasts and decide when their next best chance to summit will be. At this point, I'd guess they'll wait until next week now as well.
Finally, Denis Urubko has returned to Kathmandu. He and a group of Sherpas retrieved the body of Alexey Bolotov yesterday and flew it back to the capital city on a helicopter. Presumably Denis is making arrangements to have the body flown home to Russia for burial. With his expedition now over, I imagine he'll be on a flight home within a day or two as well.
Stay tuned for more updates. This weekend is sure to be a very busy one.
Latest posts by Kraig Becker
(see all)