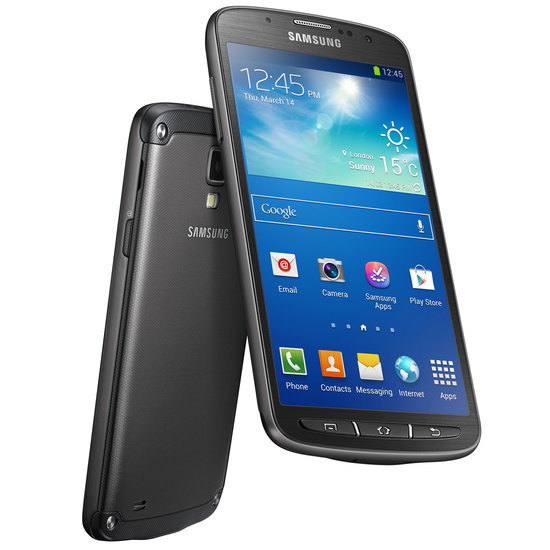 It seems that Caterpillar isn't the only company that sees potential in releasing a smartphone designed for the outdoor crowd. Yesterday, Samsung announced the new Galaxy S4 Active with a host of features designed to appeal to outdoor enthusiasts who tend to be very hard on their gear when out on their adventures.
As the name implies, the new Galaxy S4 is designed with the active user in mind. In addition to the usual host of features found on the standard S4 (1.9 GHz quad-core processor, eye tracking technology, 8-megapixel camera, etc.) this model has been built to withstand a little more punishment. For instance, it is dust proof and water resistant up to one meter for 30 minutes of time. It even comes with a water resistant earphone jack, allowing the user to listen to his or her music in more demanding environments. It has a long last 2600 mAh battery and a touch screen that can be operated even while wearing gloves. That comes in very handy while hitting the slopes with friends or simply heading out on the town in the colder months. A new "Aqua Mode" has been added tot he camera as well which gives you the chance to snap crisp, clear photos even while submerged in water. The S4 Active even has a built-in flashlight option that can help you find you way back to the trailhead at the end of the day.
The S4 Active runs the latest version of the Android operating system (4.2.2 Jellybean) which grants full access to the Google Play store, as well as numerous special apps directly from Samsung themselves. For instance, "S Travel" offers travel assistance and local information while on the road while "S Translator" helps interpret a variety of languages when visiting foreign lands. The phone tips the scales at 151 grams (5.2 ounces), which makes it slightly heavier than the standard Galaxy S4, but hardly something you'll notice while carrying it.
We've obviously seen ruggedized smartphones before but with Samsung throwing their hat into the ring, it is clear that his is a market that will be receiving more attention in the future. That means more options for those of us who absolutely must have our phones with us no matter where we go. Samsung makes the best smartphones on the market (outside of Apple) in my opinion, so having this as an option is a good things.
Pricing has yet to be announced but the standard S4 is about $200 on a new contract. the S4 Active will probably be a bit higher than that.
Latest posts by Kraig Becker
(see all)