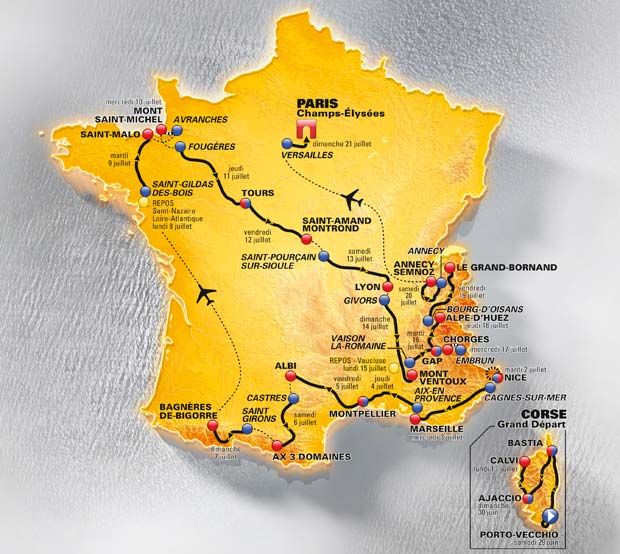 It is like Christmas Eve at the Adventure Blog World Headquarters (read my apartment) today as tomorrow marks the start of the best three week period of the year. Thats when the 2013 Tour de France gets under way in grand fashion on the isle of Corsica. From there things will only get better as we celebrate the 100th anniversary of the race with all kinds of pomp and circumstance. But this year's Tour promises to be quite a grueling affair with more big climbs than last year and some classic stages that will test the endurance of the riders almost from day one.
Speaking of day one, the race kicks off with the Grand Start in Porto-Vecchio with the riders setting out on a 213km (132 mile) ride to Bastia. The course will be undulate some with some solid hills to test their legs on the first day but nothing that will be too serious. There will be some sprint points up for grabs of course and the faster riders will be certainly be looking to claim a big win on the first day.
Rumor has it that Mark Cavendish, who is riding for Omega-Pharam-Quicksetp this year, is hoping to grab the stage win that would give him the 24th of his career and put him in Yellow for the first time. He isn't a GC contender of course, but the Manx Missile has all the skills necessary to pull of this feat and wear the leader's jersey for a few days. That would be a change of pace from recent years when Fabian Cancellara as traditionally taken the first stage and worn Yellow for the first few days. But Spartacus has elected to sit out this year's Tour to concentrate on the World Championships. He will be missed.
The real GC contenders won't show themselves for the first week or so, but they will have to be careful to not let themselves fall too far off the pace either. Last year's champ Bradley Wiggins is out due to health issues, but even before his knee started giving him problems, Wiggins wasnt' exactly riding like a  defending champ. This has cleared up a potential problem for Team Sky, as they can now put all of their efforts behind young Chris Froome, giving him a real shot at winning the race. Some believe Froome could have won last year, although he wisely elected to ride in support of his teammate Wiggins.

Froome will face a challenger unlike any that Wiggins had to deal with last year however. Former Tour winner Alberto Contador, now with Team Saxo Bank, is returning to form and looking strong heading into the race. Contador has won seven Grand Tours in his career (five officially!) and is one of the best riders of the past decade. It is hard to believe he is only 30 and when in top form he is relentless in the mountains. Wiggins didn't have to face anything like an in shape and determined Contador last year.
Other potential contenders include 2011 winner Cadel Evans who suffered all kinds of bad luck last year. Spanish rider Alejandro Valverde could be in the mix as well and Andy Schleck is back in the race after sitting out last year with an injury. Young Tejay van Garderen looked like he was a rider on the brink last season too and if Evans falters early, he could step in to fill the lead position for Team BMC.
We could also have an excellent showdown between Cavendish and Cannondale Pro Cycling's Peter Sagan. They seem to be the top contenders for the Green Jersey, which Sagan took home last year. Both are fiery personalities and neither likes to lose. Considering how fast they both are, it should be fun to watch them duel it out on the road.
The organizers of the Tour de France have gone to great pains to make this year's race a very special event. The course has been carefully crafted to make the 100th anniversary a ride to remember. This is somewhat seen as an attempt to heal some of the issues that have hit cycling over the past year or so as well as a way to turn the page on one century and start a new one. It should be an excellent Tour to follow and I think fans of the race are in for quite an event this year. I believe that complaints that last year's race was a bit lackluster have not been ignored and we'll see more drama this time out. And I'm not talking about the kind of drama that comes along with someone throwing tacks out on the road. The real kind of drama as these supreme athletes push each other to the edge to find out who is the best rider.
I cant' wait for things to get started. Stay tuned for more.
Latest posts by Kraig Becker
(see all)