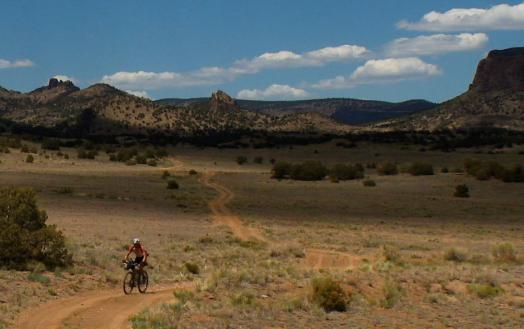 One of the longest and most demanding mountain bike races in the world gets underway on Friday when this year's crop of riders set out on the Tour Divide. For most, it'll be a weeks long journey along the epic Great Divide Mountain Bike Route, which runs for 2745 miles (4418 km) between Banff, in Albert Canada and Antelope Wells, New Mexico, which falls on the U.S.-Mexican border. Along the way the riders will need to be completely self sufficient while out on the trail, as this route runs through some very remote backcountry that routinely leaves them far from civilization.
As always, this race is run for the pure adventure. There is no prize money, very little fanfare and almost no media coverage. The field consists of a small group of dedicated mountain bikers who simply love the challenge of the trail, which is a mish-mash of single-track, jeep routes, fire roads and equally challenging paths. All told, the riders will actually face over 200,000 feet of vertical gain along the way, which is the same as going from sea level to the summit of Everest more than seven times.
And just how long will it take for the riders to complete the 2745 miles? The fastest riders will complete the route in approximately two weeks, but those are elite riders who pound the pedals for hours on end each day. The rank and file riders are more likely to take somewhere between 20 and 30 days depending on trail conditions, weather, mechanical issues and so on. No matter how long it take, it won't be a ride in the park. This is a demanding trail no matter what pace you set.
For updates on the race once it gets started, be sure to check out TourDivide.org and the official Facebook page.
Latest posts by Kraig Becker
(see all)