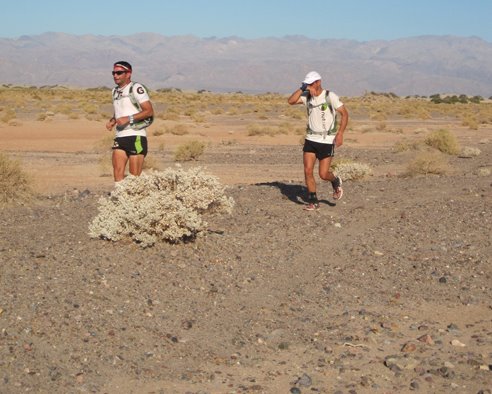 Ultrarunners Ray Zahab and Kevin Lin, who once teamed up to run across the Sahara together, are collaborating once again on another desert crossing. This time the two men will take on the remote and foreboding Gobi in an attempt to cover 2300 km (1430 miles) in just 35 days.
Ray and Kevin plan to run between 70-80 km (43-50 miles) per day on this epic journey through the Gobi. They will have a support team with them helping to provide the water they'll need to keep moving, but due to the remote and rugged nature of the region, they'll only be able to receive one or two resupplies each day. That means they'll need to carry plenty of water with that at all times as it will be uncertain as to when they'll be able to get more.
While crossing the Gobi, the team will also interact with the Mongolian people who still make their home in that wild place. They hope to learn from about the effects of desertification from these tough and resilient people, who are seeing its effects first hand. Ray, Kevin and the rest of the squad will share those experiences, as well as insights into life in the desert, with youth groups back home via satellite broadcasts. The hope is to educate and inspire those young people following along with a healthy dose of adventure.
The plan is for the run to actually begin on Sunday, June 23. Ray is leaving from Canada for Mongolia today and he'll connect with Kevin, who will be coming from Taiwan, later in the week. They'll spend the time leading up to start of the expedition by organizing gear, resting their bodies from the travel and acclimatizing somewhat to the climate. After that, it'll be full steam ahead for 35 days. You'll be able to follow their progress on the Expedition Gobi website, as well as Facebook and Twitter.
Good luck Kevin and Ray!
World Expedition Gobi Trailer from GOi2P on Vimeo.
Latest posts by Kraig Becker
(see all)