With mid-August now upon us, it is safe to say that we are definitely in the dog days of summer. In fact, where I live we've had a string of triple digit days (that's 38º+ for my readers who prefer celsius) and there isn't much relief in sight. If you're like me, a little hot weather isn't enough to keep you indoors for long and provided you have clothing suitable to the weather, it's easy to head out, even in the heat of the day.
Carhartt isn't an apparel brand that quickly comes to mind when you're looking for clothing for outdoor adventures. After all, the company has built itself a reputation for creating comfortable and durable clothing for use in work environments such as construction sites, shipyards and farms. But now Carhartt is applying what it has learned in the work place to make clothes we can sea when we head out to play too and judging from what I saw from them at Outdoor Retailer, I'd say they have some great things in store for us. But until that new gear arrives, here are a couple of products you can buy now to get you through the remainder of the summer.
Men's Rugged Cargo Shorts ($36)
I have to admit, when I first took Carhartt's Rugged cargo shorts out of the box they were shipped to me in, I was a little concerned. The seemed heavier than most of the other pairs of shorts that I typically wear and I was afraid they wouldn't be comfortable in very hot weather. After all, no on likes thick, dense fabrics that don't breathe well in the heat. Turns out I had nothing to worry about however, because these shorts are made out of 100% cotton that is soft and comfortable, while still performing very well in the heat.
For a company that is known for offering clothes that are ultra-durable, it says something that they gave these short the  name "Rugged." The fabrics used in their construction are practically bullet proof, shrugging off wear and tear easily and holding their good looks even when they're been put through a gauntlet of abuse. Like their work clothes, these shorts can take punishment and keep coming back for more, all the while keeping the wearer comfortable with their relaxed fit design.

These shorts have a generous amount of pocket space. Not only are there four in the usual spots (two on the front and two on the back) there are also two massive cargo pockets on each of the legs. They are large enough to carry all kinds of small items including a digital camera, GPS device, a headlamp or just about any other small gadget you may want to bring with you when you head out. There is even a pocket specifically built for carrying a smartphone, which is a nice touch for a pair of shorts designed more for leisure than work.
I was incredibly pleased with how the Rugged cargo shorts felt when I put them on and even more impressed after spending a day running errands and going on a short hike with them as well. They performed as well as any of the other shorts in my wardrobe and did so without compromising quality and durability. With a price tag of just $36, I feel these shorts are an incredible bargain as they are built to last a long time and good looking enough to wear to any casual occasion. Summer isn't over just yet and now might be a good time to add the Rugged cargo shorts to your closet too.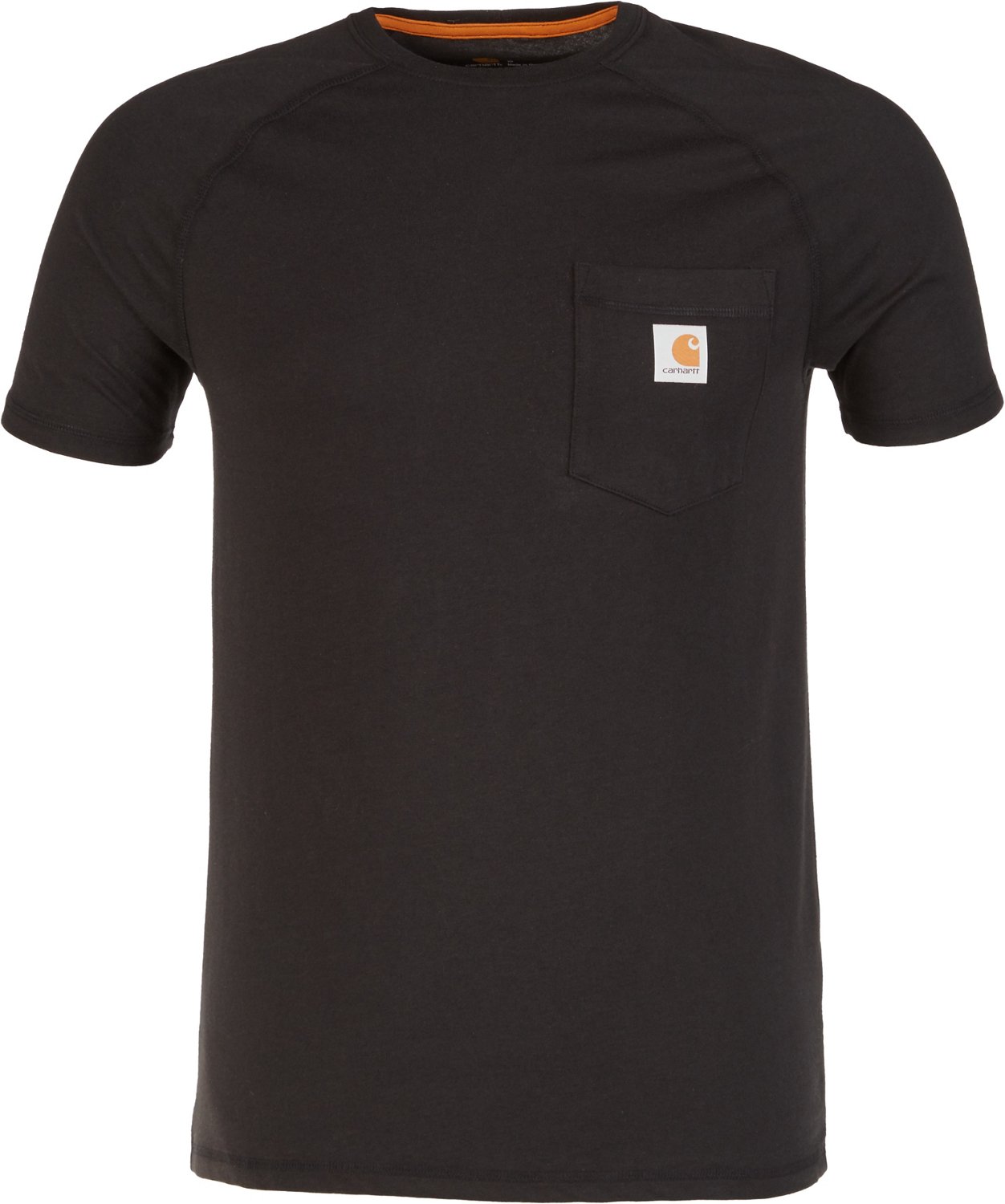 Men's Force Short-Sleeve T-Shirt ($28)
A good pair of shorts is only half the equation when it comes to staying cool and dry in the hot weather. A good shirt plays an even more important role, wicking moisture away from the body and helping the wearer stay as comfortable as possible even as the mercury climbs higher. Carhartt's Force t-shirt is the perfect compliment for the Rugged cargo shorts in that regard as it's cotton/polyester blend is perfect for pulling sweat away from the body and allowing it to quickly evaporate. The result is a more comfortable day out in the sun.
The Force t-shirt not only looks good but incorporates fabrics designed to resist stains that help to keep it that way. Like everything else in the Carhartt line-up, it is durable and built to last. This is anything but a cheap t-shirt that will wear out after you've owned it for a few months. Instead, it is a piece of clothing that is designed to last. And unlike the cargo shorts, you'll want to continue wearing the Force even when the weather starts to get cooler.
Carhartt's understanding of their customer needs shows through in the small touches. For instance, the shirt has a tagless neck collar to prevent chafing and a breast pocket comes in handy for keeping small items close at hand. The design also incorporates Raglan sleeves that don't hinder the range of motion while the relaxed fit of the shirt doesn't bind or restrict movement in any way. In other words, it is great shirt for any time of the year, it just happens to well suited for the summer months too.
The Force t-shirt and Rugged cargo shorts are Carhartt quality brought to the casual market. They look good, are durable and comfortable. Everything you could ask for in warm weather clothing and at affordable prices.
Latest posts by Kraig Becker
(see all)