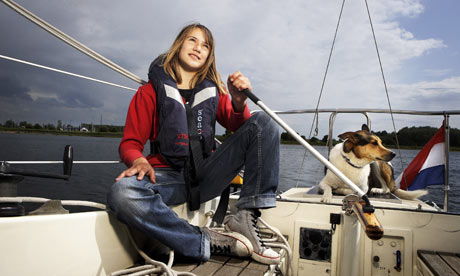 A few years back there was a real race in the sailing world to see who would become the youngest person to sail solo around the world. For a time it seemed that there was always someone who was trying to lower the bar further, even if it was only by a few months. I followed most of those sailing journeys closely, posting regular updates on their progress while occasionally wondering just how young is too young for that kind of adventure. The race seems to have come to a halt, at least for now, culminating with Laura Dekker's successful circumnavigation last year at the age of 16. She bested the previous record older, Australia's Jessica Watson.
If you've ever wondered what has become of these young sailors than I have just the blog post for you. A sight called Nourishing Obscurity has written a short update on each of them including the likes of Americans Zac and Abby Sunderland who each had their own solo circumnavigation attempt – Abbey's ending in near-disaster off the coast of Australia – as well as Brit Mike Perham. Each of them has gone on to pursue other adventures and activities of course, some are more out of the limelight than others. As you can imagine, it is difficult to follow-up with a solo sailing adventure around the world when you accomplish that kind of feat while still in your teens.
This blog post actually comes at an unusual time for me. It was just a few days ago that I was actually thinking that it is odd that we haven't seen someone try to break Laura's record just yet. There was such an ongoing race between these young sailors for several years that it now seems unusual to not have someone attempting to lower the age record yet further. In the midst of all of the media attention surrounding these attempts I was rather critical of Laura's initial attempt in particular. When she set out she was just 15 years old and I felt that was a bit too young for someone to attempt something so bold. Fortunately, she made it round in one piece and by all accounts she might be the best sailor of the entire lot. But at the time, it seemed really daunting for her to take on the seas the way she did. Now, a year and a half after she's finished, I have nothing by respect for what she has accomplished.
So, it seems that the golden age of teen solo-sailors has come to an end, at least for now. But something tells me we'll be hearing from at least one or two of these young men and women again. After all, several of them are still in their teens and have a lot of adventures ahead of them yet.
Latest posts by Kraig Becker
(see all)