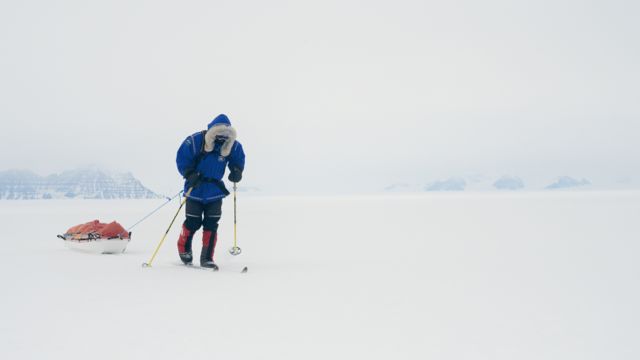 Just as the fall climbing season in the Himalaya begins to wrap up, the 2013 Antarctic expedition season is just about to get underway. As usual, there are a host of explorers heading to the frozen continent this year, most of whom will be making the journey on skis to the South Pole. The first of those explorers will hit the ice today, officially launching another season of adventure at the bottom of the world.
The first team to hit the ice is will be Ben Saunders and Tarka L'Herpiniere, the two men who are taking part in the Scott Expedition. They are on a plane out of Punta Arenas, Chile this morning and are now making their way towards Patriot Hills in Antarctic to start their journey. As you may recall, Ben and Tarka will attempt to make an unsupported round trip excursion to the South Pole and back, starting and ending at the Ross Ice Shelf, while following along the same route that Robert Falcon Scott took on his fateful expedition more than a hundred years ago. If successful, they'll be the first to complete the 1800 mile (2897 km) sojourn that claimed the lives of Scott and his men.
You can follow the expedition on their website, Twitter feed and Facebook page. The team is carrying a lot of communications gear and plans to making daily updates and dispatches to keep everyone informed of their progress. That's a far cry from Scott's days when the ultimate fate of the men wasn't known for months. But for those of us who enjoy learning about expedition life in the Antarctic and the challenges the explorers face, these updates should prove extremely interesting. The next time we hear from them, they will hopefully be in the Antarctic and preparing for the start of the expedion.
Ever wonder what kind of logistics are involved with getting an expedition such as this one off the ground? Then you'll want to watch the video below which shows Ben and Tarka preparing some of their gear. More importantly, it shows them packing their food, which is a painstaking task that takes a great deal of time but is absolutely necessary for survival out on the ice.
Latest posts by Kraig Becker
(see all)