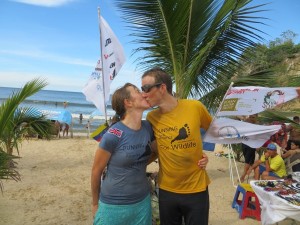 A couple of months back I wrote a story about David and Katharine Lowrie, a husband and wife team who were running the length of South America, south to north. The couple set out in July of last year with the intention of running 5000 miles (8046 km) along their planned route. Yesterday they announced that they had completed the run, reaching the Caribbean Sea in Carupano, Venezuela. The actual distance they ran? An astounding 6504 miles (10,467 km)!
The run, which David and Katharine had dubbed the 5000 Mile Project, began in Punta Arenas, Chile, the southernmost town on the continent. From there, they began traveling north, passing out of Chile and moving into Argentina, Bolivia, Brazil and finally Venezuela. Along the way, they passed over the Andes Mountains and through the Amazon Rainforest, two natural obstacles that are daunting under any circumstances.
As if running 6500 miles across a continent isn't an impressive accomplishment on its own, the couple also managed to launch their Big Toe Classroom along the way as well. This portion of their website is filled with lesson plans and other educational tools for teachers. These free resources are designed for 7-11 year olds and were created to help them learn more about South America and the plants and animals that live there.
All told, it took David and Katherine 14 months, 23 days, 19 hours and 24 minutes to run from the southern tip of the continent to the northern coastline in Venezuela. That's a lot of time on the road and I'm sure they are relived to be done.
Congratulations to the Lowrie's on the completion of an impressive expedition. Well done!
Latest posts by Kraig Becker
(see all)