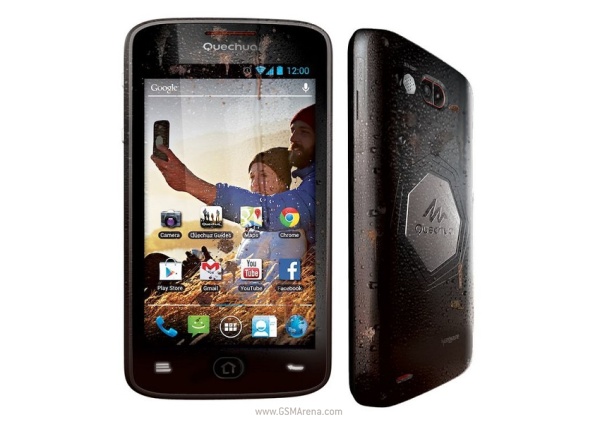 Outdoor gear company Quechua had partnered with budget tech firm Archos to produce a ruggedized Android cell phone that is designed for adventurers who can be a little rough on their gear. The phone, which begins shipping this week in some markets, if resistant to water, snow, cold, dust and other elements, while also being designed to survive a significant drop.
The new phone will retail for €230 (roughly $310) and comes equipped with Android 4.1 (Jellybean). It is powered by a Qualcomm 1.2 GHz, quad-core processor, has 1GB of RAM and 4GB of internal storage, which can be expanded through the use of SD cards. It also has a large 5″ display and 3500 mAh battery that is said to be capable of 22 hours of talk time between charges.
But what sets the phone apart from most others is that it meets IP 54 certification. That means it has been built to survive the demands of the outdoors, including submersion in water, being used in sandy or dusty environments and withstanding the shock from being dropped. It is also resistant to both hot and cold temperatures, which could make it a great travel phone for those who visit extreme environments.
The phone does have a few knocks against it before it ever hits the streets. For starters, it doesn't have 4G data capabilities. The built-in 4GB of storage is a bit anemic as well, even though you do have the ability to add to that with memory cards. Android 4.1 is no longer the latest version of that operating system either, although it is a solid, modern OS in terms of features and stability. Still, for the price, I would expect a bit more out of the phone. You might be better served with buying a more capable device at a lower price and investing in a good cast to protect it. Just my two cents.
Latest posts by Kraig Becker
(see all)