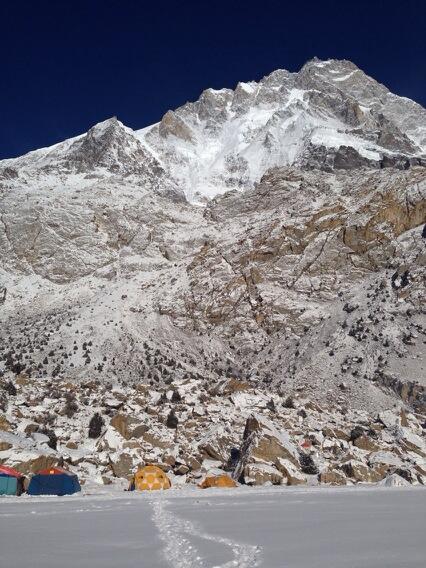 The teams attempting the first winter ascent of Nanga Parbat have been in "hurry up, and wait" mode for most of their stay on the mountain so far. That isn't unexpected on a climb in Pakistan in the middle of the coldest, most dangerous season of all. The weather has offered few opportunities for climbing too high on the mountain so far, but the climbers knew it would be like that before they ever arrived. So, they have been taking advantage of those opportunities as they come and have been patiently waiting for things to improve while they acclimatize as best they can. Over the weekend, conditions on the mountain improved slightly, giving them a chance to move higher and scout the route more properly.
The big news coming out of Pakistan is that the Polish Justice For All team has lost a man. According to ExWeb, Marek Klonowski has left the squad and returned home after his partner gave birth to their child. Being on Nanga wasn't as important as being with his expanding family, so he took leave of his friends and returned to Poland. That leaves Tomek Mackiewicz, Jacek Teler and Paweł Dunaj as the climbing team, with Michał Dzikowski and Michał Obrycki as their support crew.
Meanwhile, the North Face team of Simone Moro, David Göttler and Emilio Pevitali report that weather has indeed improved, but they remain in Base Camp at the moment to let the winds clear the snow from the higher portions of the mountain. This will reduce avalanche risk significantly and make it much safer for them as the move up to Camp 1, and possibly Camp 2, over the next few days. They'll work hard to shuttle gear up the route and establish their high camps, while also acclimatizing to the altitude at the same time.
Meanwhile, Daniele Nardi will soon set off for Pakistan as well as he attempts a solo summit of Nanga Parbat. He is due in country next week and should make his way to the mountain quite quickly. We've already seen Ralf Dujmovits abandon a similar attempt this winter due to unsafe conditions. It'll be interesting to see if Daniele will have better luck on his own expedition.
That's it for today. Hopefully we'll have more word on team movement in the next few days.
Latest posts by Kraig Becker
(see all)