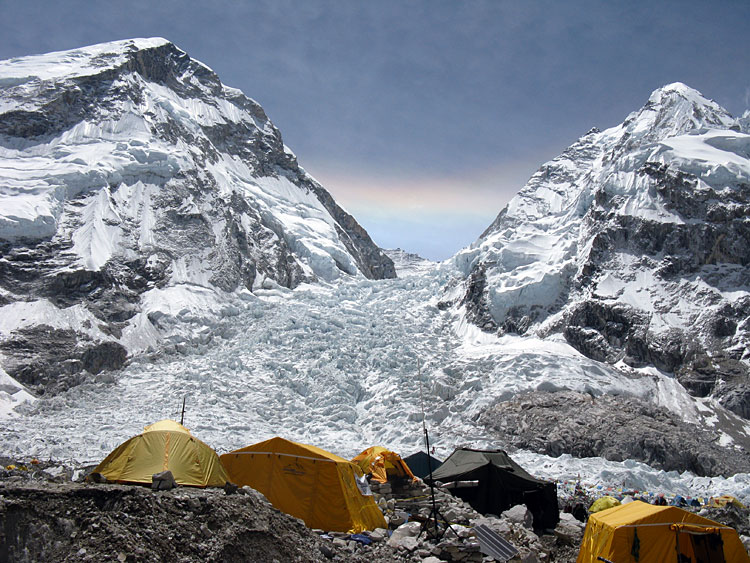 As I've mentioned before, the situation on Everest's South Side is very fluid at the moment, and things are definitely in a state of flux. But, it seems the situation took a major step towards resolving itself, as the
IMG team
, one of the largest on the mountain, has made the decision to go home. 
Alan Arnette broke the news a short time ago, and does a good job of explaining why this could be the definitive end of the season. Essentially, IMG, along with Himex, the Altitude Junkies, and a few other major teams, are the ones who handle the bulk of the work in fixing the ropes up the mountain. With this team now headed home, a major part of the work force for handling the high altitude rope-fixing is now gone. While that doesn't mean it'll be impossible for others to do the work, it does make things much more challenging.
The IMG statement reads in full as follows:
IMG leaders Greg Vernovage and Ang Jangbu Sherpa have been forced to end the expedition due to the perilous conditions resulting from the April 18 Icefall avalanche. After several days of intense meetings at Base Camp and in Kathmandu among climbers, sherpas, and representatives from the Ministry of Tourism, no agreement was reached on restarting the 2014 Everest climbing season. The Icefall route is currently unsafe for climbing without repairs by the Icefall doctors, who will not be able to resume their work this season. We have explored every option and can find no way to safely continue the expedition. 
The IMG team will be starting down valley in the next few days, with some trekking and some hitching rides by helicopter. They are joined by climbers from other expedition teams that had also been waiting at Base Camp and have also been forced to end their climbs. 
—Eric Simonson, IMG Partner
As Alan also points out, this isn't just about having the Sherpas there to help coordinate and support the climbs. With a week of no movement, most of the teams are now way behind in their acclimatization process. By now, most everyone would have made a rotation up to Camp 1 and 2, but as they sit in Base Camp, they are not preparing their bodies for the altitude challenges they would eventually face. There is no way to safely acculturate that process, and since there tends to be a rather narrow weather window for a summit attempt, it looks like things could get dicey in this regard as well. Again, the door isn't closed entirely, but it is slowly creeping in that direction.
More to follow soon.
Latest posts by Kraig Becker
(see all)