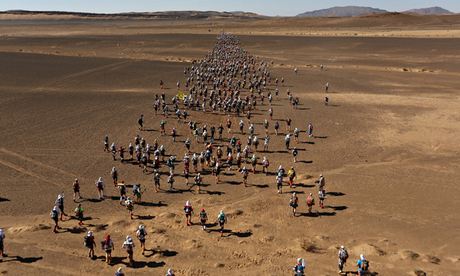 The annual sufferfest known as the Marathon des Sables gets underway today in the Sahara Desert. The race, which is a 6-day event held on a different course every year, challenges endurance athletes with ultra-length distance through one of the most demanding environments on the planet. Over the next few days, they'll battle fatigue, dehydration, and extreme heat just to reach the finish line on what has been called "the toughest footrace on Earth."
Now in its 28th year, the MdS continues to attract ultra-runners from around the globe on an annual basis. The course is typically about 150-160 miles (241-257 km) in length, with daily stages stretching for approximately 20-25 miles (35-40 km). One of the stages is usually a very grueling affair that is much longer than the others however. For example, last year's longest stage was a little more than 50 miles (81.5 km) in length, and was run in 120ºF/48.8ºC heat.
In addition to the extreme conditions, the runners must also be self sufficient out on the course. They are required to carry all of the necessary gear and equipment with them at all times. At the end of each stage, they are given food, water and a tent to sleep in, but between stages they need to carry the food and water that they'll need to survive on the trail.
Despite these challenges, there are no shortage of entrants into what may arguably be the best known ultra-marathon in the world. The race draws over a thousand people each year, most of whom are just hoping to get through the grueling challenge ahead.
You can follow the 2014 Marathon des Sables on the race's official website or on Twitter at @RunningSaharaUK, with a hashtag of #MDS2014.
Good luck to all the runners.
Latest posts by Kraig Becker
(see all)