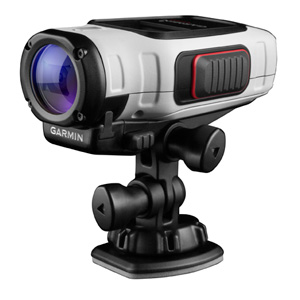 These days, everyone seems to be looking to get a piece of the "action camera" pie, that has been pioneered – and mostly dominated by – GoPro. To get any kind of attention in this competitive market, a camera needs to deliver more than just great image quality these days. It needs to be truly unique in style and features, offering up everything that competition does, and then some. I'd say that is the approach that Garmin took with their Virb Elite, a device that throws in everything you could ask for – and then some.
As you would expect with any action cam, the Virb is capable of shooting video at 30 fps with a resolution of 1080p, thanks to its 16 megapixel CMOS sensor. Dropping the resolution down to 720p allows you to increase that frame rate up to 60 fps, with a couple of intermediate resolutions and frame rates available as well. It can also take still photographs of course, and its rechargeable battery is rated for 3 hours of operation, which puts it on par, or ahead of most other cameras in the category.  The device is also rugged, and built to withstand punishment, which is a must for any action cam. It has an IPX7 water resistance rating, which means that it is capable of surviving immersion for up to 30 minutes in one meter of water.
But most of those stats are pretty common place with competitors, many of which come in at a much lower price tag. Where Garmin has really separated itself from the pack, is with all of the extras that it has built into the Virb, not the least of which is a 1.4″ Chroma display that adds a level of versatility that many action cams simply don't possess. Obviously, the screen allows you to see exactly what you're shooting, which is always nice. The placement of the display is on the topside of the Virb, which comes in handy both when you're holding it, or when you have it mounted on the handlebars of your bike, or the top of your kayak for instance. The screen also lets you access the device settings for the camera, allowing you to quickly and easily adjust all of them. Many of the competitors only let you access those settings using your computer prior to heading into the field.

The addition of the screen is just the beginning however. Considering this camera comes from a company that is the leader in consumer GPS technology, it should come as no surprise that they have managed to include a GPS chip in the Virb Elite as well. This allows the device to geo-tag photos and videos, recording the exact location where they were taken. It also allows for some other unique features, which employ the GPS technology as well. This includes the awesome "Skiing Mode," which automatically starts recording when you start down the slopes, and is smart enough to stop when you get to the bottom. The GPS also includes altimeter functions to keep track of changes in altitude too.
Not content with just offering GPS, Garmin also included Wi-Fi on the Virb as well. This allows users to connect to the camera using a smartphone, laptop, or other device that has wireless capabilities. Once connected, is is possible to change settings, snap still photos remotely, and start and stop video recording. Your smartphone or tablet screen can also be used as a monitor for the camera, giving you a preview of what is being recorded. This is an extremely useful feature to have for aspiring filmmakers, and a great option for when you have the Virb mounted on your helmet, or some other place that makes it inconvenient to check routinely.
As if that wasn't enough, Garmin has also baked in support for ANT+, a protocol for connecting to other devices such as heart rate monitors or cadence sensors on bikes. While those applications of this option are intriguing, where it'll really come in handy is for those who own the fantastic Garmin fēnix watch, which can connected to the Virb via Ant+ and control it as a remote control. The camera can also connect to remote sensors to track weather information such as temperature and barometric pressure.
So, how does the Virb perform with all of that high tech gadgetry crammed into its tiny 6.26 oz (177.4 gram) form? Quite well actually! The camera shoots very high quality video and takes surprisingly good still shots, at the same time.The built-in screen makes it a breeze to use, and the large record on-off switch makes it clear when you are capturing video at all times. Garmin wisely included image stabilization options, which certainly helps to get cleaner imagery on action shots, which is after all, the whole point of these cameras.
For a device that offers so much functionality, the Virb is incredibly easy to use. The screen makes it easy to tap into all of the camera's potential, and using Wi-Fi to connect to a smartphone or other device, opens up the possibilities even further. I actually like to use my iPod Touch with the Virb, as it keeps my smartphone free for other things, and the Garmin app runs just fine on the latest iPod devices.
Battery life is solid, although I wasn't able to reach the 3 hour mark that Garmin claims. To be fair though, I had Wi-Fi and GPS activated, and was still able to get a solid 2 hour, 40 minutes of record time. Those kinds of extra features will always eat into battery life on any device. Unlike many other action cams however, the battery is user replaceable on the Virb, and Garmin sells extras for $29.95. If you're planning a project that requires a lot of video capture in the field, a spare or two will certainly come in handy.
As with most action cams, the Virb also has a wide variety of mounts available. It ships with a versatile flat surface mount, and a handy adapter that can be used with other industry mounts, such as those from rival GoPro, as well. Garmin also offers standard options such as bike and helmet mounts of course, but it also has dash mounts for your car, wrist strap mounts, and even a shoulder harness. I tested the tripod mount, which is self explanatory, and super-useful, as well as the headstrap mount, which I expected to be a bit unwieldily. Surprisingly enough though, it worked well, capturing good quality video thanks to the built-in image stabilization system. There is also an excellent Dive Case available for the Virb, which protects it down to 50 meters, and is very affordable at $39.95.
Personally, taken as a whole, I think that this is the best action camera available on the market today, and the first serious competition for the GoPro Hero 3 Black Edition. The Virb packs a lot of technology and options into a small package, that is easy to use and comfortable in the hand. It is solidly built to withstand punishment, comes with a lot of nice features and accessories right out of the box, and shoots video that is excellent in quality. Considering all that it has packed into its shell, it should come as no surprise that it has a price tag that rivals the GoPro models as well. Garmin has priced the Virb Elite, their top-end model I'll point out, at $399.99 – exactly the same as the GoPro model they're gunning for. Savvy shoppers will be happy to know that Amazon offers it for a $50 discount however, which makes the Virb a bit more affordable.
This is a camera that offers everything that aspiring outdoor filmmakers could want. It is versatile, functional, and feature-rich. Garmin has given you all the tools to start filming your masterpiece, all you need to do is get out there and start creating it.
Latest posts by Kraig Becker
(see all)