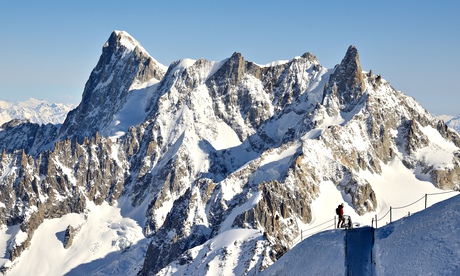 A 32-year old mystery was solved last week, when the body of a mountain guide who had been missing since 1982 was discovered by a mountaineer on a glacier in the Alps. The location of the body puts an end to more than three decades of speculation as to what happened to the young man, who went missing while climbing on Nant Blanc, a peak in the same region as the famous Mont Blanc.
Back in 1982, Patrice Hyvert was training to become a guide in the Alps when he set out on a solo climb of Nant Blanc on March 1 of that year. At the time of his departure, the weather was good, as it has been for most of the season. But a nasty storm moved into the area, catching several climbers unaware. Hyvert found himself trapped on the mountain, and was never seen again.
A rescue operation was conducted of course, but after several days of searching, the operation was called off. Hyvert's friends and family knew his ultimate fate, even if his body was not located. They mourned his passing, and moved on as best they could.
Now, 32 years later, they've had to revisit some of that pain after Patrice's body was discovered on a glacier at 2300 meters (7545 feet). Judging from the location of the body, it is believed that the young man reached the summit of the mountain, where he had intended to ski back down. But with the storm setting in, it appears that Hyvert attempted to descend along a different route, and perished in the process.
Identifying the body was a simple affair. The young mountain guide still had his skis and identification papers on him when he was found. A memorial service is planned for next week, and his ashes will be distributed over the glacier on which he was found.
Latest posts by Kraig Becker
(see all)