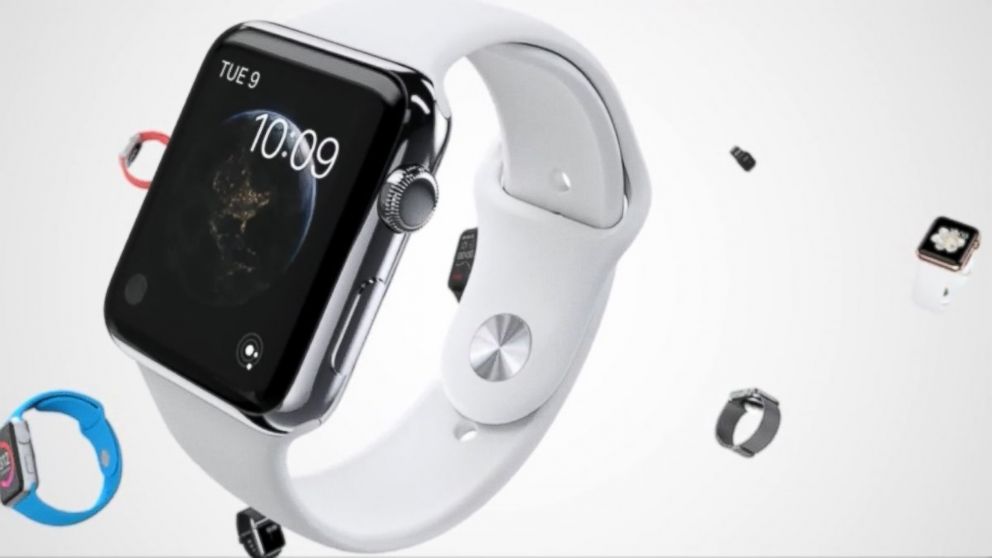 Yesterday was a big day in the world of tech gadgets. Not only did Apple unveil its new iPhone, it also showed off a new payment system that uses NFC technology to purchase things both online, and in brick and mortar stores. But perhaps most importantly of all, the company also took the wraps off a new product called the Apple Watch, which could hold a lot of potential for outdoor athletes.
If you recall, a month ago I mentioned how
wearable technology was a hot item
at the latest
Outdoor Retailer show
. A number of the companies that produce fitness watches were on hand, and showing off some innovative new options for athletes. These watches and fitness trackers were thinner, lighter, more comfortable, provided more functionality, and now have the ability to connect to your smartphone to share data. It was clear that there was a concerted focus on creating devices that were easier to use, and offered innovation that had been lacking in previous models.
Apple's watch will be competing directly against those devices in the fitness space, but it also hopes to do so much more that those devices as well. It tethers to an iPhone to provide data, and can pretty much do just about anything you'd expect from a smartphone, but with functionality shrunk down to fit on your wrist. You can use it to control your music for instance. It can display texts, emails, and other alert messages. It will provide walking directions to a destination, and it can display weather updates or give you your schedule for the day. Oh yeah, and it can also tells time.
Of course, most of that stuff already exists in smartwatches available from other companies as well. But Apple has wrapped it all up in an intriguing new operating system that looks easy and fun to use. This will help set their watch apart from its competitors in many ways, as it appears to have Apple's trade mark was of use, allowing anyone to quickly find the functionality that they want, and dial it in for their needs.
But Apple is banking on this device to be more than just a smartwatch, at least as we've come to know them thus far. It is hoping to put the Watch at the center of our workout routines, serving as coach, motivator, and activity tracker. With the launch of iOS 8, the operating system that runs the iPhone and iPad, Apple has introduced a new product called HealthKit. This set of system API's allows app creators to track and store fitness data in a central location, allowing us to chart our progress over time. It will also allow us set goals, and keep track of everything we do throughout the day, whether thats running five miles, riding the bike for an hour, or simply strolling around the block. HealthKit is at the center of a big push to create a healthy lifestyle, and the Apple Watch will have a major role in that as well. 
Apple has packed a lot of technology into the Watch, including a number of sensors for tracking movement, speed, and calories burned. It also has a built-in heart rate monitor that can accurately track just how hard you are working at any given time. This does away with the bulky chest straps that we've all used in the past, which is reason enough to be interested in the device alone. Those sensors are said to be highly sensitive, allowing the device to know when you're working hard, and when you're slacking off.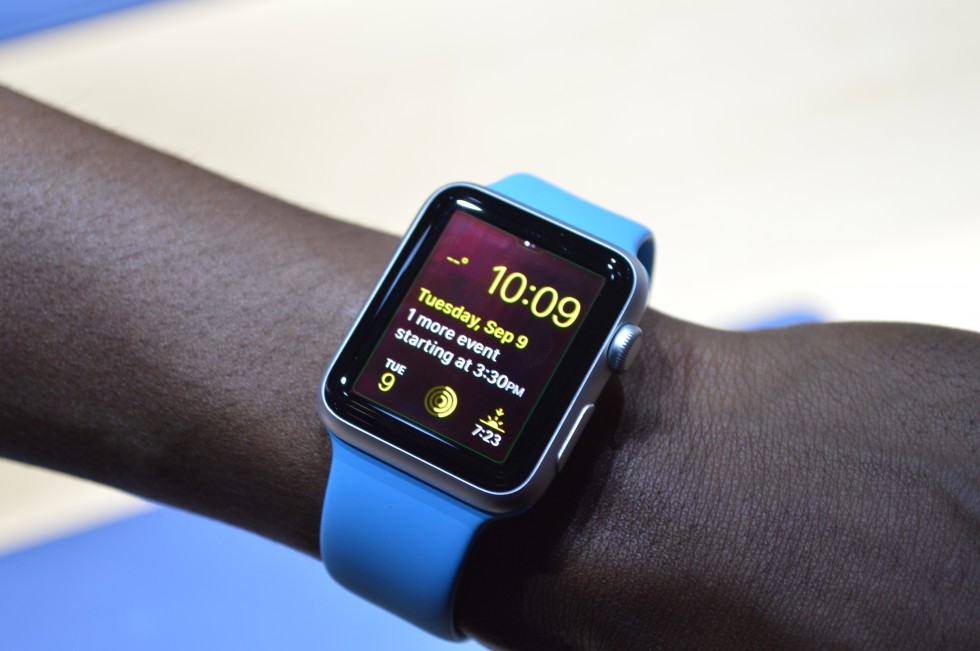 But Apple says those sensors will be active at all times, tracking what you do not only during your workout, but also throughout the rest of the day too. If you elect to climb the stairs, rather than take the elevator, the watch will know it, and add the extra exercise to your records. Over time, it will learn about your routine, and help set new goals designed to help you improve performance. In a sense, it will become a virtual coach, giving you incentives to strive to improve. Apple has big plans for HealthKit, and this is probably where the Watch is most likely to appeal to outdoor athletes. Additionally, the HealthKit system is open to all app developers to use, which means we'll probably see apps like Strava and Map My Ride integrating into it as well. This holds a lot of promise for helping us improve how we run, bike, climb, or do just about any of our other favorite activities. Just don't plan on taking it swimming, as the Apple Watch is water resistant, not water proof.
There are a lot of unknowns about the Apple Watch at the moment, and hopefully those things will be made clear prior to launch. For instance, battery life remains a big concern with Apple CEO Tim Cook mentioning multiple times throughout the keynote how the Watch would be able to function "all day." That doesn't bode well for those of us who aren't use to charging a watch on a daily basis the way we do a cell phone. My Suunto Ambit can usually go ten days or more between charges, even with daily runs using GPS. That said, even that took me some time to get use to. While we don't know just yet what to exactly expect out of the Apple Watch's battery, I'd be willing to venture a guess that this thing will be charging alongside your iPhone every night. 
Exact pricing remains a mystery as well. We know that it will "start at" $349, but that will no doubt be fore the base model. A Sports Edition will be offered as well, which will include a specially designed band for working out, and the watch itself will be a bit more ruggedized as well. Apple hasn't said what the price of that version will be, and it likely won't be revealed until we get closer to the release date, currently set for "early 2015."
It is important to keep in mind that the Apple Watch will offer a lot of functionality specifically designed for fitness, but it is a lifestyle gadget that will go well beyond that as well. The fact that it can do so many things, while also being at the center of your workouts, is very intriguing. This could be the watch you wear all day, and not just the one you use when you go for a run. With that in mind, the designers at Apple have even cleverly constructed a wide variety of bands that can be quickly, and easily switched out, giving the watch a unique look with each one. That extends the versatility of the watch even further, as you can snap on the sports band for a run, then switch to a more casual band for a night out on the town. All the while, the Apple Watch continues to track your movements, provide status updates, and remind you to pick up milk on the way home. 
As I said, the potential for the Apple Watch is off the charts. Now, we'll have to wait to see if it delivers. 
Latest posts by Kraig Becker
(see all)