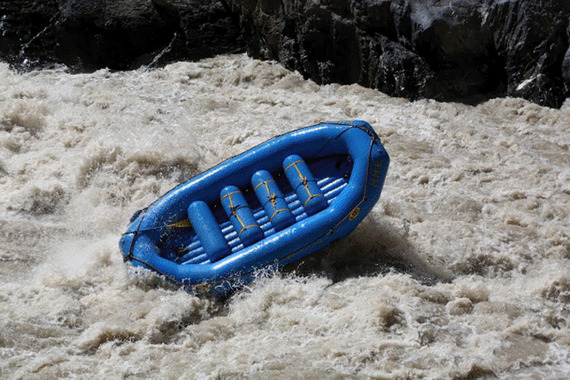 Legendary river guide and television host Richard Bangs has written a very thoughtful piece for HuffPo entitled "The Good Guide Paradox." The article not only examines the importance of having a good guide on expeditions to remote areas of the world, but also takes a very personal look at how those guides manage to become good at their jobs in the first place. 
The article begins by first mentioning the notorious 1996 spring climbing season on Everest, in which eight people were caught in a storm on the mountain and perished there. Amongst them was Rob Hall, who was widely considered one of the best mountain guides in the world at the time. But Richard asserts that in a bid to get good press (Hall was hosting Jon Krakauer for Outside magazine), Rob had several lapses in judgement that would ultimately cost him, and his client, their lives. In a quote from the article, Bangs says "He put his own self-interest ahead of his client's, and they both paid the price."
Those probably sound like harsh words, but Richard speaks from a place of experience. He goes on to recount a tale in which he made a similar decision that he would ultimately come to regret. At one point, Bangs ahas leading an expedition down the Baro River in Africa, and he allowed an inexperienced person to join the team, mostly because he was offering a substantial amount of money. It was enough money in fact that he could almost fund the entire expedition just on what this one client was offering alone. The promise of quick cash led to a clouding of judgement as well, and when disaster struck on the river, this wealthy, but inexperienced, client was lost. 
The tragedy sent Bangs into a tailspin, and for months he questioned many of the things that he had felt so strongly about prior to the expedition to the Baro. For a time, he turned his back on guiding and exploration altogether, as the entire experience left a bitter taste in his mouth. His own failure as a guide stung on numerous levels, and he no longer trusted the instincts that had served him well on many first descents and river trips in the past. 
It took a long time for Richard to recover, and it wasn't until he returned to the activities that he so dearly loved that he began to make sense of the situation. But it was then that he realized the "guide paradox" that is referenced in the title of the article. In order for a guide to become good at his or her job, they must first gain experience, and sometimes that experience will come as a result of bad judgement calls. As Bang himself says in the story, "you have to risk and fall down to get to that high place of judgment that is sound."
If you're looking for perspective on what separates good guides from poor ones, and what drives them to do the job they do, then this is certainly an article you don't want to miss. Richard has years of experience in the field, with rich stories to share. In this particular article, he shares a couple of very personal ones, as well as the lessons he learned along the way. There is something we can all learn from those experiences, whether we are serving as guides ourselves, or traveling with someone who is. 
Latest posts by Kraig Becker
(see all)