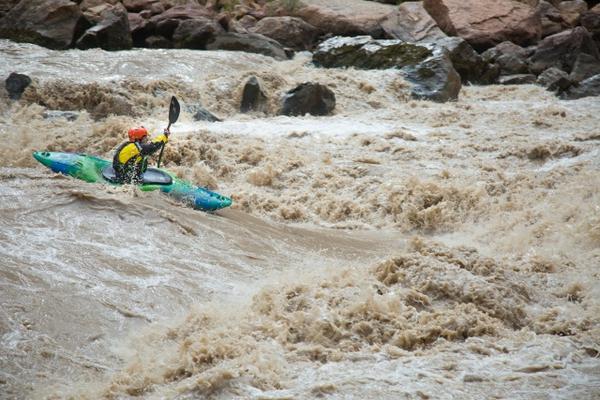 A few weeks back, I posted a story about blind adventurers Erik Weihenmayer and Lonnie Bedwell launching their bid to paddle the length of the Grand Canyon. At the time, the two men – along with their support team – were just preparing to embark on their expedition, which was expected to take about three weeks to complete, covering the entire 277-mile (445 km) stretch of the Colorado River. Earlier this week, they wrapped up that incredible journey, both both Erik and Lonnie paddling the challenging stretch of water.
The treacherous whitewater found inside the Grand Canyon can be difficult to run even for those who have the ability to see the river. For these two blind kayakers, it must have been both exhilarating and terrifying at the same time. Both trained diligently for the trip, and had lots of experience on other rivers, but their accomplishment is impressive and inspiring none the less.
For Erik, this is just another big adventure that has allowed him to remind the rest of us just what we can accomplish in life, no matter what barriers are thrown up in front of us. As you probably already know, Weihenmayer is the first, and only, blind person to summit Everest. He has also climbed the other Seven Summits, ridden his bike across Vietnam, competed in adventure races, gone backcountry skiing, and more.
Lonnie has a similarly inspiring story. He was Petty Officer in the U.S. Navy, serving aboard submarines. He lost his sight due to a hunting accident, but took some time before he started pursuing adventures of his own. Bewell eventually taught himself how to kayak on a lake on his Indian farm, before he started paddling rivers. In 2013, he made a descent of the Colorado in the Grand Canyon as part of team of military veterans.

The team has left the Grand Canyon and are all on their way home now, their mission a success. Congratulations to everyone who took part in this endeavor. It will certainly serve as an inspiration to others for a long time.
To get a better sense of what the journey was like, read the expedition dispatches at KayakingBlind.org. Then, check out the video below, which highlights some of the whitewater they encountered along the way.
No Barriers Grand Canyon Expedition White Water Highlights from Erik Weihenmayer on Vimeo.
Latest posts by Kraig Becker
(see all)