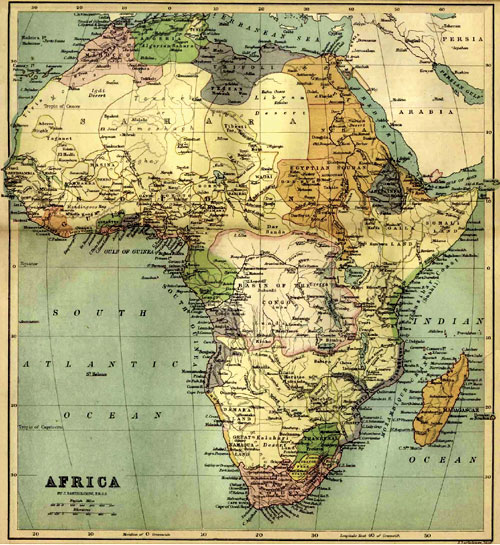 In addition to hosting a new adventure-centric radio show, explorer Julian Monroe Fisher has also announced an ambitious schedule for 2015 that will see him return to Africa once again, and launch a completely new expedition back home in the U.S.
In January/February of next year, Julian will travel to Uganda and South Sudan carrying Explorers Club Flag #89 on a research expedition to explore cattle rustling amongst the pastoral herdsmen that still subsist in those countries. He hopes to explore the evolution of these tribesman, who went from using bows and arrows, and spears, to AK47 automatic rifles.
Once that project is complete, Julian will then launch Phase 4 of his RailRiders 2012-16 Great African Expedition. Scheduled to take place from June to August of 2015, Fisher will be traveling overland, starting from the coast of the Indian Ocean in Mozambique. He'll set out from the grave site of Captain William Grant Stairs, a Canadian-British explorer who played a pivotal role in the exploration, and eventual colonization, of Africa. From there, Fisher will travel up the Zambezi River, through Zimbabwe and Zambia, to the Kingdom of Katanga. His journey will then take him from the source of the Congo River to Kinshasa, all the way to the Atlantic Ocean.
After he has returned from Africa, Julian will also launch a new expedition to explore the Carolina River system back home in the U.S. Over the course of two years (2015-2016), he hopes to paddle 32 individual rivers throughout the Carolinas, with those journeys being filmed for a television program. This project is entitled "Carolina Rivers -Education, Preservation through Exploration." Throughout the journey, Julian will work closely with schools to develop a curriculum tools that will instill in students a better understanding of the environment that surrounds the Carolina rivers, and the importance of preserving them for future generations.
As if all of that wasn't enough, sometime in 2015, OutWildTV will also begin airing a documentary film and television series from two phases of Julian's Great African Expedition. Those programs will cover his journey through South Sudan and Uganda. You can find out more about those expeditions by clicking here.
While I can tell you for a fact that Julian is enjoying his new gig as a radio host, I know he is also looking forward to getting back to his "day job" as an explorer as well. It seems he will have some great opportunities to do just that next year.
Latest posts by Kraig Becker
(see all)