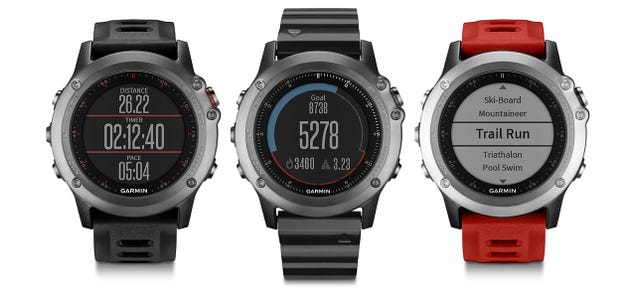 This week, the annual Consumer Electronics Show will kick-off in Las Vegas, where hundreds of tech companies will show off their latest gadgets and devices. This year, the hottest trend seems to be wearables, with smartwatches, fitness trackers, and a variety of other gear taking center stage. Over the next few days, there will be hundreds of press releases sent out announcing all kinds of interesting and exciting innovations in technology, and not to be left out, Garmin has already announced three new fitness-oriented smart watches as well.
Perhaps the most exciting of these new products is the Fēnix 3, the latest update to one of Garmin's flagship products. The Fēnix has been an outstanding product for outdoor athletes and mountaineers for the past couple of years, but the latest version adds elements that have become common in fitness trackers such as the Fitbit. For instance, the Fēnix 3 now tracks your steps throughout the day, alerts you when it is time to be more active, and estimates the number of calories burned too. It can also track your VO2 max, recovery times post-workout, and can even count the strokes of swimmers too. The new model features faster GPS tracking, an improved display, and the ability to connect with friends to share workout and performance data. Garmin went back to the drawing board with the Fēnix 3 to give it a more refined look as well. As a result, the watch now resembles something you could wear all day long, as opposed to something designed specifically for working out. The Fēnix 3 will have an MSRP that starts at $499, and will begin shipping in the first quarter of 2015.
Garmin has also revealed a new GPS watch called the Epix which features 1.4-inch color touch screen that is capable of displaying maps used for navigation. The device comes with a world-wide base map, and has 8GB of storage to add more detailed maps for specific regions as well. It includes a digital compass, altimeter, barometer, and is water resistant down to 50 meters. It fill start at $549 when it begins shipping this quarter.
Finally, Garmin has also introduced the Vivoactive, a more scaled back an affordable fitness watch, that will meet the needs of those more focused on their workouts, and less on exploring the backcountry. It'll track pace, distance, and duration of your workouts, and comes with a color touch screen and a more subdued design. The Vivoactive will start at $249, and will be available soon as well.
This is just a taste of the new wearable devices that will be shown off at CES this week. Other companies are also rushing to get their latest gadgets out to the public as well, so expect to see a deluge of similar products. The difference is that Garmin has been making fitness and GPS watches for some time, and they bring a solid heritage to these new products as well.
Latest posts by Kraig Becker
(see all)