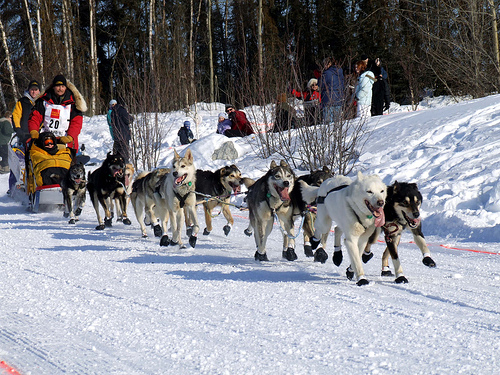 One of my favorite events of the year will kickoff tomorrow in Anchorage, Alaska, where the ceremonial start of the 2015 Iditarod sled dog race will take place. This year, 78 mushers will take to the line to compete in the "Last Great Race," a 1000-mile (1600 km) endurance run that will culminate at the finish line in Nome.
The streets of Anchorage will be lined with well wishers as the racers set out from downtown and head toward Campbell Airstrip just 11 miles (17 km) out of town. From there they'll head to the secondary starting point in Fairbanks where they'll return to the trail on Monday. The route has been moved about 225 miles (360 km) north to help make up for the lack of snow on the traditional route. Unlike some parts of the U.S., Alaska has not been covered in excess snow this winter, and it will now have an impact on the state's greatest sporting event. In fact, Anchorage typically sees 60 inches  (150 cm) of powder by now, but has only seen 20 inches (50 cm) so far.
This has caused race organizers to scramble to find an alternate route that will help keep the race moving forward. The path they have chosen will actually spend more than half of its time out on ice rather than snow, which should make for a vastly different race than ones we've seen in recent years. In fact, the ice could actually level the playing field, allowing just about anyone to have a shot at the win.
The field is a diverse one to say the least. It includes six former champions with the likes of Mitch and Dallas Seavey returning, as well as Jeff King, Lance Mackey, and a host of other very experienced and talented mushers. Iditarod veteran Brent Sass will be looking to capitalize on the momentum he received by winning the Yukon Quest last month as well.  There are also 20 rookies in the field too, and they are likely to get a baptism by fire with this challenging new course.
It is expected that it will take this year's winner about 10 days to reach Nome. Over the course of the next couple of weeks I will be keeping a close eye on the proceedings and keep readers up-to-date as things unfold. If last year taught us anything it is that this race is always full of surprises, and I suspect there will be some amazing stories this time out too.
Latest posts by Kraig Becker
(see all)