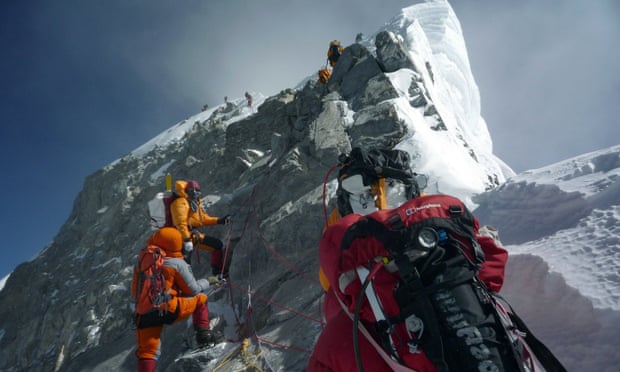 Stop me if you've heard this one before.
The Guardian is reporting that Nepal will begin limiting access to Mt. Everest, possibly as early as the next climbing season in the spring of 2016. According to the article, government officials in the Himalayan country are looking to improve safety on the mountain, and one of the ways they plan to do that is to require all climbers to have previously summited a mountain taller that 6500 meters (21,235 ft). Officials have also said that permits would not be issued to the very young, or very old, although exactly what those age limits are remains unclear. The ban would also apply to those who are "disabled" as well.
We've seen Nepal attempt to place restrictions on the mountain before, particularly when it comes to age. After Jordan Romero summited Everest back in 2010 at the age of 13, there was a movement afoot to prevent other young children from going to the mountain. At the time, Nepal announced that no one under the age of 18 would be allowed to climb, and that older climbers would be evaluated to determine their level of fitness. Tibet followed suit with similar restrictions, but for the most part these limits have never been enforced all that closely. No one as young as Jordan has climbed the mountain, but there have been other teenagers that have gone there.
According to The Guardian, these latest restrictions would continue to ban anyone under 18 from climbing Everest, as well as anyone over the age of 75. It would also ban those with physical disabilities, such as amputees or blind climber Erik Weihenmayer, who successfully summited back in 2001. These rules would have little impact on the large number of people who attempt to climb the tallest mountain on the planet however, as very few climbers actually fall into those categories.

Of perhaps more importance is the potential ban on inexperienced climbers, which would likely be widely supported in mountaineering circles. That could limit the number of people on the mountain, but if Nepal were truly serious about making Everest safer they would require that all climbers attempting the mountain would first summit an 8000 meter peak. That isn't likely to happen however, as that would substantially limit the number of climbers, and could eat into the government's bottom line. After all, Nepal makes millions of dollars a year off of selling Everest permits alone.
It is also easy to see how these restrictions could be a knee jerk reaction to the two disasters that have occurred in successive years on Everest. In 2014, an avalanche claimed the lives of 16 porters climbing just above Base Camp, and 2015 the Nepali earthquake killed 18 more climbers. But honestly, these new rules would have had no impact on those two incidences at all. So, while these moves could improve overall safety on the mountain, they aren't going to have a substantial impact.
That said, I applaud any efforts by the Nepali government to make things safer on Everest. The issue here is that these rules don't go far enough. If tourism officials there want to get serious, they should enforce even tougher requirements. Unfortunately, that isn't likely to happen, as the government is still driven by the almighty dollar first and foremost. This is especially true post-earthquake when the economy there truly needs a boost.
It remains to be seen if these restrictions will even be put into place, or if they'd have much of an impact at all. At least there is a discussion about improving safety on Everest however, and that is at least a good place to start.
Latest posts by Kraig Becker
(see all)