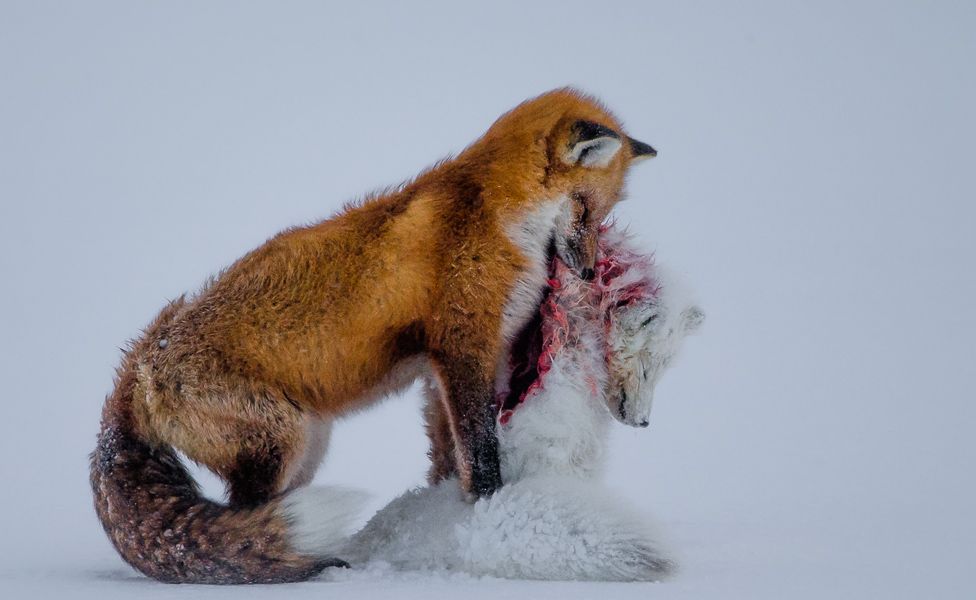 The U.K.'s Natural History Museum has announced the winners of the 2015 Wildlife Photographer of the Year contest, and as you might expect the entries were spectacular. An international jury sifted through more than 42,000 images to select the winners, with the top prize going to amateur photographer Don Gutoski, who shot this photo of a red fox dragging away the carcass of an arctic fox after a violent encounter between those two animals. It is believed to be the first time such an image has been captured on camera.
Not all of the images are quite so brutal. Other shots include a Bryde whale swimming through a school of sardines off the coast of Australia, a wild rabbit running through the snow, and two Komodo dragons sparring with each other. The categories were broken down into mammals, birds, amphibians and reptiles, and invertebrates. There were also categories for plants, underwater shots, photos taken from the air, on land, and in urban settings, amongst others.
The galleries are separated into two categories as well. One for adult photographers, and another for youth, which are further broken down by age groups. The winner in the young photographer category was a shot of male ruffs going through a courting ritual in Norway. That image was captured by Ondrej Pelánek of the Czech Republic, who took the top prize and falls into the 11-14 age category.
There are some powerful images on display in these galleries, and much like the winning shot of the two foxes, not all are for the faint of heart. But they are all beautifully composed and capture wildlife in their natural environment. As an aspiring photographer myself, these photos remind me of how much I have yet to learn about the art, as well as giving me an appreciation of the patience necessary to get the right shot. Sometimes, it's just all about being in the right spot at the right time.
Latest posts by Kraig Becker
(see all)