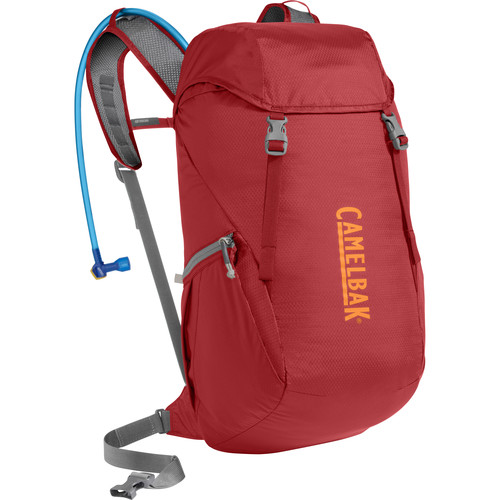 By now, we all know the importance of staying hydrated while on a hike or trail run, something that has become increasingly easier over the years thanks to continued advances in hydration pack design and technology. Of course, Camelbak has always been at the forefront of that movement, introducing the first hydration pack back in 1988, and continuing to evolve that piece of gear ever since. Today, the company has expanded its line-up to include water bottles, filtration systems, travel mugs, and more. But for most of us, Camelbak will always be synonymous with hydration packs.
Back in August, I met with reps from the company at Summer Outdoor Retailer, and I can promise you there are some good things coming from Camelbak in the very near future. But in the interim, they also shared with some of their current products, which continue to be excellent options for those who need hydration on the go. Here are some thoughts on both of those packs.
Arete 22 Hydration Pack ($65)
The Arete packs have been around for a couple of years now, but they remain a good, lightweight option for day hiking or fast and light mountain ascents. This minimalist pack strips away all of the extras that you'll find on most other Camelbak products in favor of shedding as much weight as possible. The result is a backpack that tips the scales at a mere 16 ounces, while still providing plenty of capacity.
The Arete 22 comes with a built-in hydration sleeve that is easy to fill and can carry up to two liters of water. That's generally enough to get you through the day on most excursions. Its main compartment provides 20L of carrying capacity too, which means you can fill it up with the gear you'll need for the day, and still have room left over.

Because it is so lightweight, the shoulder straps and belt are not nearly as padded as what you'd find on most other Camelbak packs. Those are the kinds of frills that were done away with in favor of shedding ounces. While it remains comfortable to wear, this may not be the pack for everyone, as some will find it to be too minimalistic for their tastes. But if you're the kind of person that counts every ounce, this will be an excellent hydration option. Personally, I found it to be a solid choice not only for light day hikes, but trail running as well, as it stayed firmly in place as I moved along the trail, and because it was so light, it was restrictive in any way.
The Arete pack has another trick up its sleeve that many will appreciate as well. It can also be converted from a pack into a simply hydration sleeve for a larger backpack too. This is the kind of versatility that makes this bag a popular one, as you can use it on short excursions on its own, but then add it to your larger pack on lengthier expeditions too.
Lightweight, versatile, and affordable. Those words sum up the Arete 22 very nicely.
Palos 4 LR ($60)
For a completely different type of hydration option, check out the new Palos 4 LR, a lumbar pack that  is part of Camelbak's Low Rider mountain bike collection. The bag was specifically designed with the needs of riders in mind, and was built to provide plenty of water for those who need more than a water bottle, but don't want to wear a full backpack either.
I have to admit, wearing a lumbar pack was a new experience for me, as I've generally always taken a full sized hydration pack with me when I ride. But the Palos did provide a new sense of freedom, giving me the ability to carry not only my water, but small personal items such as a wallet, smartphone, and toolkit with ease. There is even a built-in key clip as well, which is an organizational option that I always appreciate. Small pockets on the belt are also a great place to store an energy bar or even a small camera too, keeping those items within easy reach.
The Palos is well padded, which makes it very comfortable to wear, even while carrying around up to 1.5 liters of water. The belt features a rugged buckle that when locked into place, prevents the pack from moving, while also allowing you to dial in a perfect fit. This is important while riding, as the last thing you want to worry about is whether or not you'll be able to move well, particularly on tough ascents. That wasn't an issue at all with this pack however, and it wasn't long before I actually forgot that it was there. You really can't ask for much more than that from your water source.
Camelbak is betting big with this "low rider" approach to their lumbar packs, and expects them to be popular with mountain bike riders. Having put this one to the test, I can understand why. It pretty much offers everything you need for a day of riding in a compact, comfortable design. On longer rides, you may still want to carry the full sized pack, but depending on the circumstances, this is a fantastic option to replace it with. In fact, I'd be willing to bet that the majority of us will find this to be a better alternative for our needs.
Both the the Arete and the Palos are available now, and will make good Christmas gifts for the outdoor enthusiast on your list. As usual, both feature Camelbak's great build quality and attention to details, which is why they have been so successful in the hydration field for so long.
Latest posts by Kraig Becker
(see all)