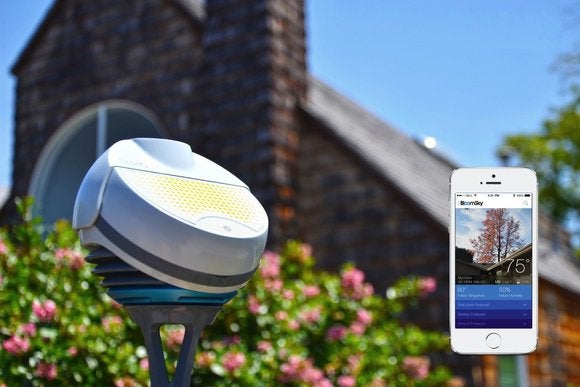 As outdoor enthusiasts, the weather often plays a major role in determining when we can and can't go outside to enjoy the activities the we love so much. If you're like me, you probably spend an inordinate amount of time checking the forecast and current conditions to help to determine when is the best possible time to be outside, and just how you should dress for the occasion. At times, you might have even wished that you could own your own personal weather station that could provide updates and information on the conditions that exist right outside your door. Well, if that has ever been something you've dreamed of, than you're definitely going to want to take a look at BloomSky, a device designed to provide accurate weather information and a whole lot more.
Packed with a host of high-tech sensors, BloomSky is a device that you set up outside your home, office, or other location to record and share weather data. It can detect temperature, humidity, barometric pressure, the current level of UV radiation, and precipitation. That information is than shared directly with you via a smartphone app, which can also be configured to provide alerts based on changing conditions.
As if that wasn't enough, the BloomSky weather station also features a built-in camera, which can be accessed via the app as well. The camera can provide a wide-angle image of the sky or the area that surrounds the device at any given time during the day. Those images are even saved up as the hours pass, providing a nice time-lapse video of how things unfolded from dusk until dawn.
Setting up the BloomSky is a breeze, and takes just a matter of moments. Do to so, you must first download the app to your iPhone or Android phone, and create an account. Once you've done that, you'll be able to manage your devices, giving it its own unique name and configuring a few basic settings. The most important of those settings is granting it access to your WiFi network, which is how the weather station shares its data. That means that when you pick a spot outside, it also has to be within range of a wireless network, otherwise you won't be able to connect to it.

Fortunately, the BloomSky comes equipped with a high quality WiFi chip that seems to have solid range. I configured mine to my wireless router, than took it outside to set up in the yard. It immediately started broadcasting weather data and even some images of my ugly mug up close to the camera as I installed it. The entire process took less than five minutes, and before I knew it my personal weather station and camera system was in place, and broadcasting to the world.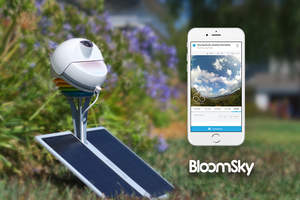 The BloomSky device also features a built-in rechargeable battery that keeps it powered for up to two weeks at a time. But, there is also an optional solar panel that can be connected to the unit to provide a constant source of power. That's the method I've been using to keep my weather station operational, and it seems to be working like a charm. The BloomSky app provides an on-screen indicator of current battery life, and mine hasn't wavered a bit since installing it.
In addition to providing current weather conditions for yourself, there is also a bit of a social element to BloomSky. When you set up the device, you can opt to have its data shared publicly, or make it private so only you see it. Most users are sharing their data, and as a result there is a growing network of BloomSky weather stations across the globe. This gives you the option to search for different locations within the app, allowing you to check the weather in many parts of the world, complete with an image from the camera onboard those other BloomSky devices. To get a sense of where these weather stations are located, take a look at this real-time map that is constantly being updated with new locations. You can also get a sense of where the devices are installed by following the BloomSky Instagram account, which includes some great shots of cameras too.
The BloomSky app is a pretty easy to use, straight forward affair. When launched, it takes you straight to your own device, but also lists other that are nearby as well. Tapping on your personal weather station – or one of the other son the list – gives you more information, including an hourly forecast for the day, and the outlook for the rest of the week, for the place that the device is located. It also allows you to share data via social networking, and gives you the option to save other BloomSky devices to your favorites.
As much fun as having your very own weather station is, the BloomSky isn't without its faults. For instance, the data it provides to you comes in raw numbers, which out of context isn't always helpful. Sure, the temperature and humidity numbers are pretty self explanatory, but barometric pressure is more useful if you know whether or not it is rising, falling, or is stable. I would like to see that option added in the future. The UV radiation indicator was originally a number as well, which meant absolutely nothing to the layman. But now, it has been replaced with a much more useful low, medium, or high rating. Additionally, the app was a bit unstable when I first started using it, but a recent update to fix some bugs seems to have ironed out those issues.
I'd also like to see some kind of history added to the app as well. As it stands, the data is transitory, disappearing as the day goes by. But being able to keep the data and analyze it over time could prove helpful. BloomSky could even grow to the point that it is providing long-term analysis of weather and climate change from across its global network. At this point, that doesn't seem likely though. I also wish that the device had some kind of wind speed indicator and a rain gauge to know just how much precipitation you've had over a certain period of time.
The app also seems to only be available for smartphones at the moment. I'd really like to have it be an option on my iPad as well however. Better yet, I'd like to see a BloomSky app for the new Apple TV as well, allowing me to check conditions and watch the time-lapse videos on my big screen. I'm not sure how likely that is to happen, but it sure would be nice.
That said, there are some nice features about the BloomSky that I really like. I appreciate that it sends me a notification when it starts to rain for instance. I also love the time-lapse videos that it creates each day, and the ability to save them for future viewing should something truly interesting get caught on camera. On top of that, there i something quite satisfying about having your own weather station out in the backyard, providing you realtime data about what is happening around you.
If you have a weather-obsessed person on your holiday shopping list, this would be quite the gift to find under the tree this year. The BloomSky is sold in several different packages, including the basic model which features the weather station by itself. That unit typically sells for $199, but is currently on sale for $149. Additionally, the package that includes the solar panel to power the device typically goes for $337, but is now just $186. That's a heck of deal, and is the one that I would personally recommend, as once it is configured and installed, you can pretty much forget about it. You can see all of the holiday specials, as well as options for mounting the device on a deck, as well as buying the solar panel separately, on the BloomSky online shop.
The bottom line is that this is a unique and fun piece of technology that has a lot of potential. I already enjoy watching the weather from my device, and searching for other stations in different locations around the world. As the product and the app continue to be refined, I think we'll see even more functionality show up from BloomSky, but even now it is a nice option to have at your disposal.
Latest posts by Kraig Becker
(see all)