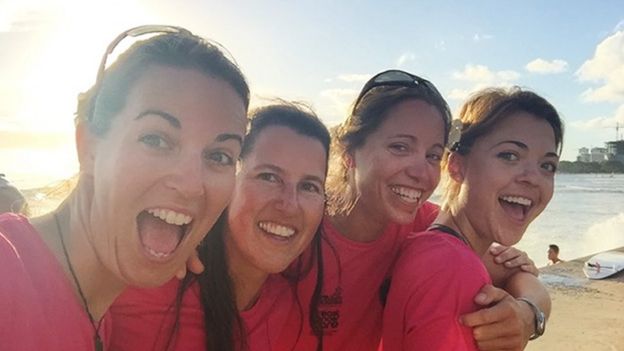 On Monday of this week, a team of women rowers completed an epic crossing of the Pacific Ocean, arriving in Cairns, Australia after spending more than nine months at sea. The Coxless Crew, as they are known, set out from San Francisco back in April of 2015, and although they took longer than expected to complete their journey, they did manage to set a couple of records along the way.
The team's boat – named Doris – was designed for a four-person crew, and three of the members of the team stayed aboard for the entire crossing, while three others rotated in and out three different legs. The permanent members of the crew included Laura Penhaul, Natalia Cohen and Emma Mitchell, with Isabel Burnham, Kizanne van Vuuren, and Meg Dyos, each taking a turn at the oars. Burnham rowed from San Francisco to Hawaii before giving way to van Vuuren, who was part of the team from Hawaii to Samoa. Dyos took over from there, and was with the Coxless Crew when they arrived in Australia this week.
As is typical with a four-person crew, two members were at the oars at all times. In this case, they would row in two-hour shifts, and sleep 90 minutes at a time. In this way, they were able to cover the 14,800 km (9200 mile) journey, although it did take about three months longer than they had anticipated.
I first wrote about the Coxless Crew back in 2012 when they were planning to depart the following year. Obviously they hit a few road bumps along the way, delaying their start and changing their plans a bit. But they stuck with their goals and pushed forward with the challenge they had set for themselves despite adversity. Pernahul in particular was keen to take on the Pacific, and she seems to be the only member of the original crew who made the crossing.
By arriving in Australia on Monday – 257 days after the set out – the ladies became the first all female crew to cross the Pacific, and the first four-person team to do so. Along the way they faced massive storms, crushing waves, encounters with whales, and extreme heat in the South Pacific. Their adventure wasn't just for the challenge however, as they also raised funds for the Walking with the Wounded and Breast Cancer Care charities.
Congratulations to the six ladies who worked together on this fantastic achievement.
Latest posts by Kraig Becker
(see all)