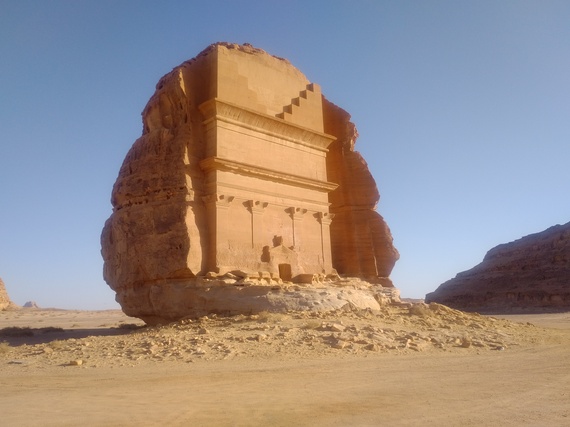 Saudi Arabia isn't a destination that typically ranks high on the list of places for adventure travelers to visit, but my friend Richard Bangs recently shared his experiences there, which included visits to museums and historical sites, camping in the Empty Quarter, and a dizzying array of other wonders, both modern and ancient.
Richard describes the Kingdom as the "hardest place in the world to visit," but yet he finds plenty of friendly, accommodating people that welcomed him. Along the way he had the opportunity to explore some truly amazing places, including the Lost City of Qaryat Al Fau – the remains of a civilization that dates back to 1 B.C. – and the tombs of Qasr Al Farid, which are carved out of a single giant sandstone monolith in the desert.
Most visitors to Saudi Arabia come on a religious pilgrimage, although there is a tourism sector there that is growing slowly. The country has very restrictive visa restrictions, which include requiring visitors to have a sponsor before they arrive. Most visa are issued for business purposes only, with general tourism still remaining mostly off limits. In fact, the only company that currently offers regular tours of the Kingdom is Mountain Travel Sobek, which Richard is a co-founder of.
Read more about his adventures in Saudi Arabia in this article from HuffPo, and if you're looking for something a little closer to home, Richard also has details on what he calls "far and away, flat out, the West's best road trip."
Latest posts by Kraig Becker
(see all)