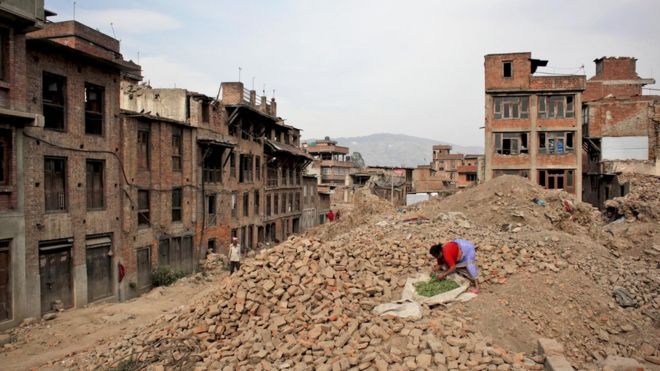 It is a solemn day in the Himalaya, as it was exactly one year today since the devastating earthquake shook Nepal, destroying thousands of buildings and claiming the lives of more than 8800 people, including 21 on Mt. Everest itself. In the weeks that followed, continued aftershocks kept the country on edge, fraying nerves and preventing the rebuilding process from fully getting underway in some areas.
Last year this time, the world was stunned to see just how widespread the destruction was, with everything from mountain villages to World Heritage sites being completely destroyed by the quake. We were horrified to read about the massive loss of life, and the mountaineering community was saddened by yet another tragedy on Everest that brought an end to the climbing season there for a second year in a row.
Now, a year later, Nepal still struggles with the rebuilding process. According to reports, while the roads are cleared and power has been restored, there has been little progress towards actually reconstructing the buildings that have collapsed. Many people still live in tent cities or temporary shelters, while the Nepali government struggles to manage the massive rebuilding effort. In the meantime, the people that live there continue to suffer.
There have been a number of ceremonies held throughout the country today to commemorate the occasion. With the wounds of the disaster still fresh, it is certainly a sad day across the region, made all the worse by the fact that reminders of the natural disaster can still be seen all around Kathmandu and the surrounding valley.
A year may have passed, but it will take many more before the Nepali people can begin to put the earthquake behind them. A not-very-efficient government is not helping with the healing process, but the return of tourism and climbing operations is bringing a much needed boost to the economy, as visitors slowly start to return.
The Nepali people are strong and resilient. They will survive and thrive once again. But today is a day to remember those who were lost, and look to a brighter future. It is time to renew the commitment to rebuild the country, and get on with getting that job done.
One quick note on currently climbing operations. The weather window on Annapurna failed to open over the weekend, so teams are still standing by, waiting patiently. They hope for an opportunity to come later in the week, but until the forecasts start to firm up, it is still a "wait and see" situation there. We'll keep an eye on it.
More soon!
Latest posts by Kraig Becker
(see all)