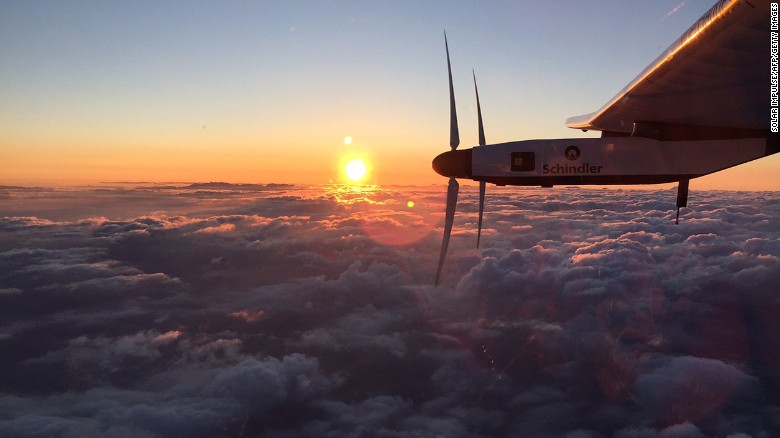 Its journey around the world may have been delayed for 10 months, but the historic flight of the Solar Impulse 2 has resumed at long last. The solar powered aircraft took off from Oahu in Hawaii yesterday, and is now flying towards California on what is arguably the most dangerous leg of the entire project.
The innovative plane features a wingspan as large as a 747, yet it has a very small and cramped cockpit. Most of those large winds are covered in solar panels, with large batteries onboard that cover the rays of the sun into energy and store it for use while inflight. The aircraft carries absolutely no fuel, which is why flying it around the world is such a major achievement.
The Solar Impulse 2 took off from Abu Dhabi in March of last year, flying on to China with few problems. Once there however, poor weather kept the plane on the ground for several weeks, and when it did take off it was forced to land in Japan, where it suffered damage on the ground. The crew repaired that damage, and Swiss adventurer/pilot Bertrand Piccard pressed on to Hawaii.
But while on that leg of the journey, the plane's batteries overheated, damaging the electrical system en route. Safely on the ground in Hawaii, the team reviewed the issue and discovered that it would take some time to repair the Solar Impulse and get it back in the air. The aircraft needed two new batteries and an improved cooling system, which took some time to get in place. It remained in Hawaii until yesterday, when a weather window opened that allowed the plane to take off and resume its journey at long last.

Over the next few days the solar-powered aircraft will make its way to San Francisco, before continuing across the U.S., making several stops along the way. From there, it'll fly across the North Atlantic, visit Europe and North Africa, before proceeding back to Abu Dhabi sometime in the summer. If successful, the Solar Impulse will be the first aircraft to circumnavigate the globe using nothing but solar power.
Hopefully this is the last of the delays, and the airplane can now continue along on its journey without any further delays. There is still a long way to go, and it is far from out of danger, but the team behind this project is happy to see its aircraft back in the air once again.
Latest posts by Kraig Becker
(see all)