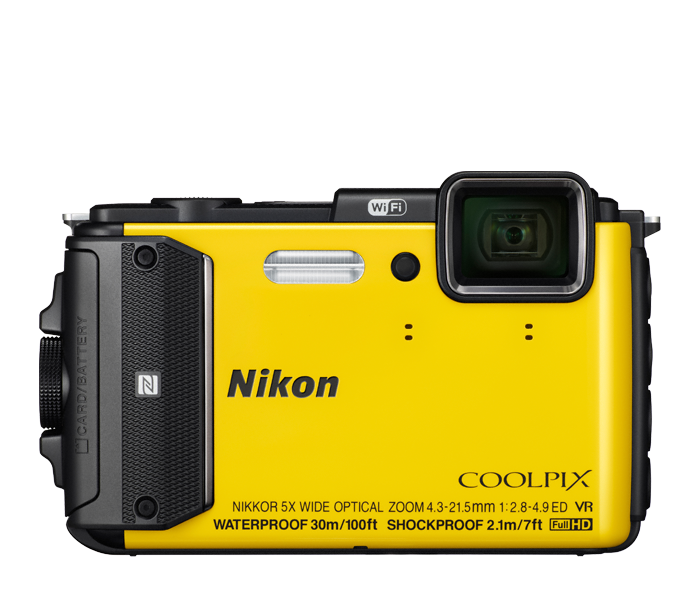 When it comes to serious travel photography, I still tend to go a bit old school. That is to say, in the age of the smartphone, I'm still one of those people who likes to carry a dedicated camera with me when I hit the road. Sure, my iPhone takes great photos, and it allows me to easily share them on social media, but it still lacks a proper zoom, has a relatively low megapixel count, and a battery that needs to be recharged every night. On top of that, it isn't rugged enough to take with me into some of the environments that I often find myself visiting. But those places are exactly where the Nikon AW130 digital camera shines. This ruggedized camera has been built with outdoor adventurers in mind, and is tough enough to take with you just about anywhere.
The AW130 is Nikon's most recent generation of rugged camera. I also happen to own the AW100, which is a few years old now, but is still a solid camera to take with me on some of trips. But, the new model shows that Nikon has listened to critics of its earlier models, and has addressed some of their concerns. The results are a camera that has evolved nicely from my older model, while retaining some of the characteristics that made the original stand out.
So what exactly does the AW130 bring to the table for adventure travelers? For starters, it is waterproof down to 100 feet (30 meters), freeze proof down to 14ºF (-10ºC) and drop proof from a height of 7 feet (2.1 meters). Those characteristics alone make it a good option for challenging environments. For instance, I took the camera with me on a kayaking excursion along the Russian River and Pacific Coast in California, and didn't have to worry about getting it wet. It can even shoot photos underwater too. And since it can function in cold weather and is well protected from accidental drops, you'll have a camera that can survive just about anything you throw at it.
This camera isn't just tough however. It features plenty of other useful features too, including a 16 megapixel sensor, a 3″ OLED display, and a 5x glass zoom. It also has a built-in GPS receiver for geotagging photos, as well as WiFi and NFC connections for sharing images with your smartphone or tablet. The AW130 is capable of shooting five images per second, and can capture video at full 1080p resolutions. As if that wasn't enough, it also has onboard vibration reduction for steadier photos and video, as well as a fast autofocus that is always ready to shoot.
The design of the camera makes it easy to hold in your hand, even when you're taking part in active sports. It has an small, but useful, textured grip that comes in handy in slick conditions, and the buttons and switches are all large enough that they can be easily operated, even while wearing a pair of gloves. The operating system is typical for point and shoot cameras, which is to say it isn't overly intuitive, but it is fairly easy to find what you're looking for on those rare occasions when you need to go delving into its menus.
Putting the camera to the test in the field, I found it to be a solid point and shoot that was responsive and quick. It is easy to use, and snapping photos is a lot of fun in general with the AW130. The fact that you know you can take it with you anywhere is big plus, as its rugged design brings a nice sense of freedom about how and where you can use it.
In terms of image quality, the photos taken with the AW130 are good, but won't necessarily blow you away. In fact, there were times when I felt my iPhone did a better job of capturing a similar image, with better color reproduction and less noise. On the other hand, there were also times when the Nikon's zoom and glass lens took better photos as well, so performance is certainly impacted by the location and setting. All in all, you won't be disappointed by the photos taken by this camera, just don't expect DSLR levels of quality.
The battery life on my old AW100 was always a bit of a disappointment. It tended to run out of power at the most inopportune times, and far too quickly for my liking. That has been addressed in subsequent generations to a degree however, as I found the AW130 to have far better battery life than my older model. Of course, certain features such at GPS can really kill the battery quickly, so its best to turn it off unless you absolutely need the geotagging features or plan on recharging the camera regularly. Nikon says the AW130 can take 370 photos between charges, but that number drops substantially with GPS or even WiFi use.
The camera's 5x zoom is another source of irritation for me. On the one hand, I'm glad that it has any kind of mechanical zoom, as I far prefer it to digital zoom on any camera. But 5x is hardly anything to get too excited about, and I would have liked to have seen a longer zoom added to the latest model of Nikon's rugged line-up. But, some limitations come along with the design. If you want a waterproof camera, you'll need to make sacrifices in other areas, and this is one of them. Adding something with a longer zoom would compromise the ability to survive in water, which is ultimately one of the main functions of this camera.
Indeed, the one thing you constantly have to keep in mind when it comes to the AW130 is that in making it rugged and durable, Nikon had to make compromises elsewhere. If you want a better camera in terms of speed, features, battery life, and image quality, there are plenty of point and shoots on the market that will fulfill those needs, with most costing less than this one. But if you truly need a camera that can survive in the outdoors, and take very good photos along the way, this is great option.
Personally, I tend to carry the AW130 (or AW100) with me a secondary, companion camera. Depending on the trip, I'll take my DSLR and this one, as they compliment one another quite well. It also happens to make a good companion with a smartphone, surviving in places you'll want to keep your mobile device away from, while being able to share images wirelessly. As a stand alone camera it is still versatile enough to get the job done, just know ahead of time that you'll be trading some functionality in favor of ruggedness.
Wit its $300 price tag, the AW130 is on the more expensive side of the P&S market, particularly as that segment continues to be eaten away by smartphone usage. But, that price delivers a camera that is very rugged and built to survive in some very demanding environments. In the end, that's exactly what you're buying the AW130 for, and recognizing that ahead of time hells to make it the right tool for the job in most instances.
The bottomline is that this is the camera you want with you when white water rafting through the Grand Canyon, skiing in the backcountry, or hiking in the desert. It can handle each of those roles with equal aplomb and capture some good photos of those journeys as well. This is a camera made for those of us who have to leave our smartphones at home, because quite honestly they just won't survive where we're going.
Latest posts by Kraig Becker
(see all)